Lucky Luciano: The Nickname and that Droopy Eye
In HBO's Boardwalk Empire, Season 1, the year is supposed to be 1920 and yet they are already calling Salvatore Lucania, a.k.a. Charles Luciano a.k.a. Lucky Luciano, "Lucky." (Anyone else notice that Lucky and Nucky rhyme?)
Many sources claim that Lucania (who changed his last name to Luciano probably because he got sick of people spelling his last name Luciana or Luciania and who knows what else) got his nickname from surviving a severe beating in 1929, after which he was dumped on a Staten Island beach and left for dead. Practically all sources agree he was taken for "a ride" and that's how he got the droopy eyelid, but there is also evidence that he was using the nickname "Lucky" before the attack.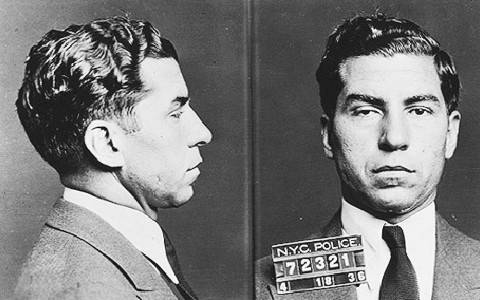 Here are various quotes from books on Luciano's appearance, that droopy eyelid and his nickname:
from The New Book of Lists
(2005), David Wallechinsky, Amy Wallace:
"Charles Luciano earned the name Lucky when he was taken for a ride and came back alive, although a knife wound gave him a permanently drooping right eye. Luciano told many stories over the years about the identity of his abductors — two different criminal gangs were mentioned, as well as the police, who were trying to find out about an impending drug shipment, but the most likely version is that he was tortured and mutilated by the family of a cop whose daughter he seduced. Luciano parlayed his misfortune into a public relations coup, since he was the one and only underworld figure lucky enough to return alive after being taken for a one-way ride."
from The Luciano Story
" (1994), Sid Feder and Joachim Joesten:
"Someone has said that in his garb, with his swart, sinister features and his droopy eyelid, Lucky looked like Dracula. To the less morbid, he was the personification of the Grade-B movie mobster."
from Mafia Dynasty: The Rise and Fall of the Gambino Crime Family
" (1994), John H. Davis:
"Compared to the handsome and imposing [Salvatore] Maranzano, with his formal, imperious airs, Luciano was unattractive, even repulsive. Of medium height and somewhat on the skinny side, he had a graceless bearing and few manners. His pockmarked face was further disfigured by scars he had received from a knifing by a Maranzano soldier who had slashed through his right cheek muscles and left him with a drooping right eye."
from Lucky Luciano: The Real and the Fake Gangster
(2010), Tim Newark:
"It has been claimed that it was in the early 1920s, as Lucania worked for Rothstein, Diamond and Masseria, that he first acquired his famous nickname: Lucky. Biographer L. Katz quotes Frank Costello as saying it was Lucania himself who adopted it: "he felt that people are attracted to a guy when he's lucky. Everyone wants to be with a winner." It was Lucania who pushed others to use it, he says, and had "Lucky" tattooed on his arm. But this flies in the face of other accounts. People close to him say he hated it, claiming there was no luck in what he did. "I never heard nobody call him Lucky," said Frank Costello to his attorney, "not even behind his back." This directly contradicts Katz's quote. Generally, it is believed the moniker came later after he survived a terrible beating in 1929. "In the light of seeing the actual court transcript of Luciano's statement just two weeks after the ride, and the New York Times article the day after, this all now seems wrong. Luciano was already known as "Lucky" and was happy to use the name. See 'Ride' Victim Wakes on Staten Island, New York Times, October 18, 1929 and Katz, L., Uncle Frank: The Biography of Frank Costello London: W. H. Allen, 1974."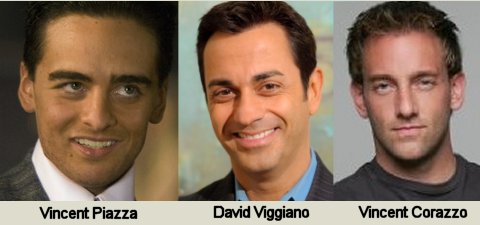 Vincent Piazza is currently playing Lucky Luciano in Boardwalk Empire. Other actors who have played him include Daniel Cerqueira in "Fade to Black" (2006), David Viggiano in "The Real Untouchables" (2001), Vince Corazza in "Bonanno: A Godfather's Story" (1999), Anthony LaPaglia in "Lansky" (1999), Matt Servitto in "Mad Dog Coll" (1992), Leonard Donato in "Hit the Dutchman" (1992), Bill Graham in "Bugsy" (1991) Stanley Tucci in "Billy Bathgate" (1991) and Christian Slater in "Mobsters" (1991).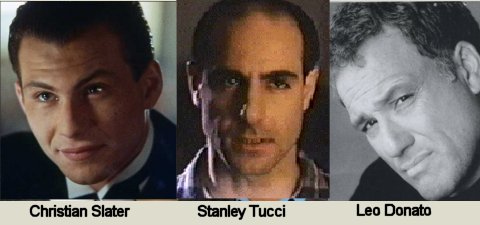 Let's not forget the old timers either — Cesar Romero played Lucky in "A House is Not A Home" (1964) (about New York madam Polly Adler) and Telly Savalas played him in 'The Witness,' a 1960 episode from the television series, "The Untouchables."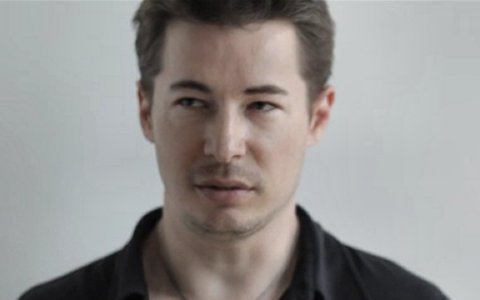 We still think Edoardo Ballerini, who plays Ignatius D'Alessio in Boardwalk Empire, looks more like Lucky Luciano than all of them. Something about his eyes. He doesn't have the droopy eyelid but that's what makeup departments are for.