The Wacky Quaids Star Whackers Conspiracy
Randy Quaid and his wife, Evi, appeared on Good Morning America Monday morning to let the world know that their "Hollywood Star Whacker" claim is very real and not just some ploy they dreamed up to avoid due process.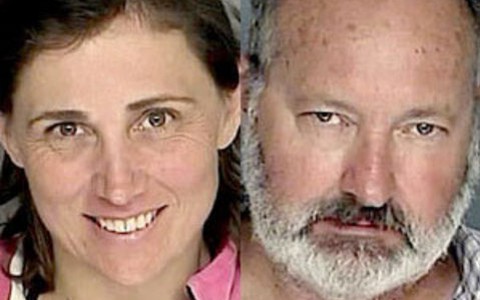 The 60 year old actor and his 40 year old wife believe they are being targeted by some kind of Hollywood Mafia. They're being stalked, their phones have been bugged and computers were hacked into.
"They follow us, they tail us," Randy said. "They tag our cell phone, they hack our computer."
The Quaids believe it's all about the benjamins and also claim the "star whackers" are responsible for the deaths of actors David Carradine, Chris Penn and Heath Ledger. They believe Mel Gibson, Lindsay Lohan and Britney Spears are on the list. Randy Quaid also said his brother Dennis has been a victim:
"… I love my brother very much. We're worried about him. He's been victimized by the same people," he said.
Mel Gibson was "slipped a mickey," according to Evi Quaid, and Oksana Grigorieva is an agent of the "star whackers" sent to get Mel's money." Evi Quaid was running her mouth so much that Randy had to tell her to shut it at one point.
"Evi will you shut up, please!"
Randy and Evi Quaid are supposed to appear in a California courtroom Tuesday to answer charges brought against them in the house-squatting incident where they damaged a bunch of stuff at the guest house on a property they previously owned.
The Quaids insist they aren't bail jumpers — according to Randy, they are "just trying to find some safety and security in this."
Randy Quaid is best-known as Cousin Eddie in the "National Lampoon's Vacation" movies and as Russell Casse in the hit 1996 movie "Independence Day." He married Evi in 1989.