No Second Save for Sam Woolf on American Idol 13 Top 5 Elimination Show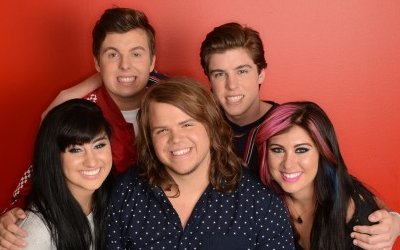 Just as we predicted, Sam Woolf was eliminated, finishing at No. 5 in American Idol 13's Top 5 Elimination Show on May 1st. The shocker, the "dramatic proposal," the "game changer" was that the contestants had a chance to save the lowest vote-getter from being eliminated. The conditions were the vote to keep the group together one more week had to be unanimous and next week, two people would go home. Well, it just was not unanimous.
But before we even got to that part, Keith Urban rocked the stage with a performance of "Good Thing," showing the contestants how it's done.
Randy Jackson gave his worthless input on the performances from last night. "This is like a mad dash to the end. Everyone is trying to win this!" he observed. Sheer genius, Randy. Jena killed it. Alex gave everything to his second song. Caleb turned the place upside down. His comments about Sam just echoed what the judges said — shaky start, but he got into it. Randy saved the iffy stuff for Jessica. She has an amazing strong voice but was lacking a little performance-wise. He summed it up with "The competition is really on fire now." Maybe the competition between Caleb, Jena and Alex, huh?

Final Results & Elimination (Top 5) – American… by IdolxMuzic
The contestants began to discuss this vote before they cut to commercial and it looked like Caleb was saying yes, and Alex was saying no. When they came back and Ryan announced the results, it looked like Jessica shook her head no, so we think that Alex and Jess may have been the two who voted no, even though it was anonymous. But whoever it was, we'd like to thank you both. Thank you! Thank you! Thank you!
If they had all voted yes, we never would have found out who finished 4th and 5th and that is very very stupid. So it looks like Harry Connick, Jr. was totes wrong last night when he told Jena that it doesn't matter which spot she lands in. It mattered enough to two of the contestants to find out exactly where they stood with the voters so they voted no.
For his last performance, Sam sang "It's Time" by Imagine Dragons. It was.