American Idol Top 5 Performance Show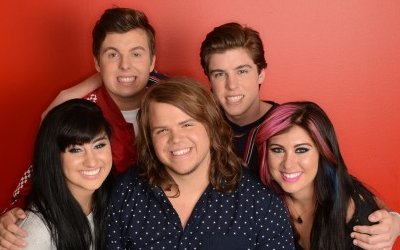 One comment Harry Connick, Jr. made tonight stood out while talking to Jena Irene after her performance of "Valerie." He said she was in the Top 5 and it didn't matter anymore where she ended up now. What a weird thing to say! But more on that later…
On to the April 30th installment of American Idol. The Top Five finalists picked two songs each from thousands of requests tweeted to them over the past few weeks and the judges reviews were fairly mixed.
Caleb Johnson
Don't Wanna Miss A Thing – Aerosmith
J-Lo liked his take on it and was glad he didn't do an imitation of Steven Tyler. HCJ wasn't too happy with Caleb singing to the viewers as opposed to the audience right in front of him. Keith thought it was great but they need to figure out how to get him to the "next level."
Still of The Night – Whitesnake
Here was Caleb's shining moment as the last singer of the night and J-Lo said: That's what we call bringing down the house." Keith and HCJ agreed with the latter noting: "You can't sing that song any better than that." High praise indeed. Looks like he took it to the next level, after all.
Jena Irene
My Body – Young The Giant
J-Lo complimented her on her little signatures like the phrase, "C'mon Let's Go." HCJ thought she moves more than the rest of that Top 5 and said "that's huge." Keith said she was "killer" and a lean-in performer, so now you know what he means when he tells the others they need to lean in more.
Valerie – Amy Winehouse
Keith and J-Lo were disappointed with the tempo. HCJ thought it was in the middle — not her best but not her worst. He wanted to know what she wanted to be known by after Idol was over, was she going with her last name or Jena Irene. (He's already figuring out how they will bill her when she wins?) Jena wants to drop the Irene and forget about her last name — too hard to spell. She just wants to go by JENA, in all caps!
Alex Preston
Sweater Weather – The Neighborhoud
Jennifer Lopez and Keith Urban were wishing for a little more excitement vocally, but HCJ thought it was strong and that he sounded similar to The Neighborhoud's Jesse Rutherford.
Say Something – Great Big World
HCJ thought it was the performance of the night (the first song of the second round, with 4 more to go). Keith thanked everyone in America who suggested the song. J-Lo added that she loved the way he looked.
Jessica Meuse
Human – Christina Perri
It wasn't HCJ's favorite by Jess, mentioning pitch issues, but he complimented her on taking the judges' advice seriously. Keith liked the part where her voice cracked halfway through the song. J-Lo thought she was beginning to tap into the emotional part of the song.
Summertime Sadness – Lana Del Ray
Harry thought it was the perfect marriage of voice and song. Keith admired the deep tone in her register, but wanted her to lean in to the song. J-Lo thought the beginning had so much promise, with her red dress, the exposed leg with a tattoo – but it didn't deliver and left her a tiny bit cold.
Sam Woolf
Sing – Ed Sheeran
Keith thought he did as good as he could on a song that wasn't in his wheelhouse. Jennifer thought he got funky — for Sam. HCJ thought he was diffusing the funk. What did that add up to? Beats us.
How To Save A Life – The Fray
J-Lo and Keith thought it started off shaky. But he hit his sweet spot and it got good. Harry liked the part where his voice broke, like he did on Jessica's first song and wished he had sung the whole song like that. We wished he had kept his eyes open because he looked weirdly squinty when he kept closing them.
We have already put the Top 5 in order of how we think they will make out and if we're right, Sam Woolf will be singing his swan song tomorrow night. It's only fair and he's actually the only one who it shouldn't upset that much because if it wasn't for the judges' save, he wouldn't be in the Top 5 anyway.