Loose Women and Lysol: Boardwalk Empire Ep. 6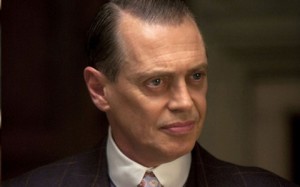 "Family Limitation" is the real name of the 6th episode of HBO's Boardwalk Empire but it really did have something to do with Lysol. Still, if we could have picked the title, we'd have gone with "Butter Wouldn't Melt," a line uttered by Margaret Schroeder's now former neighbor, Edith, when Agent Van Alden comes looking for Margaret.
Butter wouldn't melt in a lot of these characters' mouths!
In "Family Limitation," Margaret Schroeder (Kelly Macdonald) makes her move, deciding to take Nucky Thompson (Steve Buscemi) up on his offer to be his mistress (or one of them anyway), because as she succinctly tells the head lady of the Temperance League: "He will provide."
But first we see that Nucky's regular mistress, Lucy (Paz de la Huerta), either has fantastic woman's intuition or is spying. She knows something is afoot with Margaret, so she marks Nucky up, by becoming "a little tiger cub" and scratching his chest, telling Nucky she "can't help it" — he makes her wild.
The Temperance League lady is a practical sort. She does make the observation that there are names for the type of woman who accepts such offers, but provides Margaret with Margaret Sanger's "Family Limitation" to help her avoid an unwanted pregnancy.
"What will my neighbors say?" Margaret asks Nucky after an amorous rendezvous at her apartment (when Margaret does notice the scratches left by Lucy). He informs her that she's moving. She goes off to the bathroom for an old-fashioned Lysol douche.
Nucky gets his manservant, Eddie Kessler (Anthony Laciura) to move Margaret and her kiddies to better digs. Three bedrooms and a phone. She also quits her job at the dress shop, but not before a confrontation with Lucy (and her annoying voice).
Lucy decides to buy some fancy lingerie at the dress shop in an effort to humiliate Margaret by making her model a sexy peek-a-boo selection. Lucy inspects Margaret's body and tells her she should wear a bra because her breasts are saggy and you can tell she's had children. "You're like the kitchen help, a quickie bent over the table," is Lucy's best taunt.
She obviously underestimates Margaret, who blithely responds "He doesn't seem to mind." Lucy still thinks Margaret is no match for her and tries to intimate that she knows Nucky better than Margaret. "He was raised a good Catholic boy," Lucy confides, and demonstrates her ability to manipulate him with her sexual wiles.
Margaret retorts with a story about a recurring attraction back in the ol' sod — a man had a trained rooster who could peck out "The Mountains of Mourne" on a toy piano. It was a big hit with the local kids the first year he came 'round, Margaret relates, and they even went back the second year, but by the third year, the novelty wore off especially because they knew that was all the rooster could do. "What's the point," Lucy mutters, totally unprepared for this reaction. Margaret enlightens Lucy that her "cunny" may not be quite the draw Lucy thinks it is.
This is not the first time we have seen dimensions of Margaret's character that show she is not easily intimidated and has shrewdness and a confidence that belie her humble immigrant appearance. Obviously, she does not perceive Lucy as a threat to what she wants the way Lucy sees her. But Lucy is hardly the only character presenting obstacles to Margaret's ambitions.
Nucky's immediate reason for taking up with Margaret was to get her out of the Temperance League, but he also invites her to go with him to see Houdini's brother perform. Nucky then meets with Frank Hague, the mayor of Jersey City, and  invites him too, calling Margaret "his girl." But Nucky and the mayor of Jersey City end up doing what the mayor wants, keeping company with a bare-breasted ukulele player and a couple of rambunctious whores. Eddie calls Margaret up to inform her that Nucky got tied up with business.
Margaret is learning she will always be second-fiddle to business, and she also learns that she is not the only political mistress in town, when another gal, Annabelle, shows up to ask if she can share the babysitter. Annabelle has a daughter named Ruby. Margaret is now living in a building full of "concubines" who neglected to limit their families.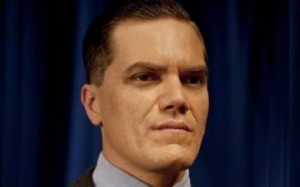 That would seem to be the least of Margaret's worries when we find out that Agent Nelson Van Alden (Michael Shannon)  is a self-flagellating psycho with a full-blown obsession with Margaret.
Margaret is pretty smart cookie, but she may have bitten off more than she can chew, particularly if those Lysol douches don't work.  We also learned in this episode that Margaret is quite the "fertile Myrtle," with another miscarriage in her past at age 16.  She miscarried on her voyage from Ireland to America.   She had two children, Teddy and Emily, and then she miscarried when her husband abused her.
Lucy talked about having a baby in Broadway Limited.  Maybe Lucy will throw her Lysol out in a desperate attempt to hang on to Nucky.
Quickies:
When Van Alden is looking for Margaret at her old apartment, chain-smoking neighbor Edith (Barbara Tirrell) is only too happy to share her knowledge and opinion on Margaret's whereabouts and good fortune. A blue limousine pulled up and carted the whole family off, she says. Van Alden wants to know if it was a Rolls Royce. Edith doesn't seem to sure on what a Rolls is at first, but one thing she's sure about: Margaret stays out all hours of the night and "butter wouldn't melt [in her mouth]," an expression that means Margaret has no scruples. On the other hand, Margaret's wife-beating husband, Hans, was a lovely man, according to Edith, who always brought day-old crullers.
"Is there anything else you can tell me?" Van Alden says. "Yes," Edith replies: "she's a whore."
Lucky Luciano finds out he's not shtupping Jimmy Darmody's wife – it's Jimmy's mom. Lucky is supposed to find out where Jimmy is and get him rubbed out. Taking up with Jimmy's wife wouldn't have posed any problem in that regard, but his mother … now Lucky will have to take maternal grief into account.
"Home" Season One Episode 7 recap Angela' lover revealed; Nucky burns the house down; Jimmy's poetic justice