Security: Olive Kitteridge
HBO's 4-part miniseries "Olive Kitteridge" winds up with the final installment "Security". It takes place 4 years after Henry's (Richard Jenkins) stroke. He is still alive in the nursing home. Christopher Kitteridge (John Gallagher, Jr.) has remarried and Olive Kitteridge (Frances McDormand) takes a trip to Brooklyn to meet his new wife, Ann (Audrey Marie Anderson), who is 3 months pregnant and already has two children by two different fathers.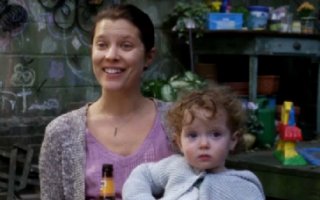 An omen of how that visit will go occurs when Olive gets out of Christopher's car and steps right in dog poop. Christopher has already described his stepson Theodore as a little "piece of crap." Olive's critical and cold nature does not mesh well with her daughter-in-law's easy-going ways, nor does she approve of the pregnant woman having a beer and calling her Mom.
Theodore demands a gift upon meeting Olive and demonstrates how swearing makes the upstairs tenant's parrot say holy things like "Glory to God". The tenant's last name is O'Casey leading Christopher to tease his mother by pretending the man is Jim O'Casey's son. A long green snake-like apple peel brings back a memory of her never-to-be fulfilled love affair with Jim. When Theodore gets over-excited about an ice-cream trip, she slaps him for tugging on her dress. The last straw comes when she sees ice cream on her clothes and is angry that no one said anything.
Olive tells Christopher she is leaving and repeats accusations of how the "rotten mother' is always blamed for everything. Christopher and Ann try to reason with her over her mood swings but she rejects their arm-chair psychoanalysis, then turns around and blames Christopher for kicking her out. Chris refuses to engage but points out how her horrible temper and affair with O'Casey affected their lives. She treated him and Henry like shit and he would just like her to admit it for once. Olive continues to invalidate his feelings.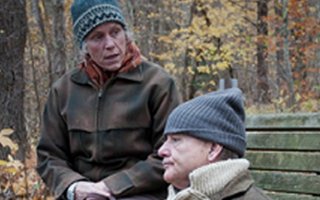 Back in Maine, Olive learns that Henry died at 10:30 p.m. the previous night. She is furious, recalling that she was on the phone talking to him at 10 p.m. but they had no way to reach her in Brooklyn. Now all she has left is her dog, Clancy. She meets Jack Kennison in the park after he passes out from a dizzy spell and assists him to his home. He is also coping with the loss of his spouse from cancer. Later she calls him and invites him out to dinner, Dutch treat.
The dinner goes fine as long as Olive can be the one doing the complaining and needling. She complains about Christopher but scoffs when Jack confides that he can't deal with his daughter being gay. When Jack rejects her barbs with pointed comeback, she leaves in a huff and a taxi. Clancy becomes ill and Olive has to put him down. Now she is truly alone and apparently not lying when she told Jack she was waiting for the dog to die to kill herself.
We are brought back to the opening scene where Olive went out in the woods with a picnic blanket and a revolver. Her plan is interrupted by the neighbor children — ironic since Olive told Kevin Coulson that children might find his remains if he blew himself away in the woods behind his mother's house.
Ann leaves Olive a message that she is a grandmother behind Christopher's back. Resuming her friendship with Jack, Olive is still too proud to admit that she didn't learn that from her son but she finally owns her part in Christopher's alienation and her mistreatment of Henry. Bill cops to similar misdeeds in his life. They lie together looking out at the seascape as Olive says "It baffles me, this world. I don't want to leave it yet."
And that is the end of a mini-series that was far too depressing and hard to fathom for some who have never had to deal with a toxic parent, and may have been a bit painful to watch for those who have. Hopefully, her relationship with Christopher can be mended but it will probably still be better if they kept their distance because it will be just as painful for him to watch Olive try to be a better grandmother than she was a mother.
Also in Security:
Nurse Cindy: Nada Despotovich
Nice Lady: Anne Scurria
Airport Cop: Osmani Rodriguez
Theodore: Ayden Costello
Sean O'Casey: Theo Stockman
Jim O'Casey: Peter Mullan (in flashback)
Teacher: Georgia Lyman
TSA Officer: Juan Carlos Pinedo
TSA Supervisor: Lou Hatziandreou
Angela O'Meara: Martha Wainwright
4-year old Neighbor: Juliana Starkey
6-year old Neighbor: Seamus Sullivan
8-year old Neighbor: William Blahy
Vet Assistant: Daniel Perry
Pharmacy * Incoming Tide * A Different Road * Security