Final Jeopardy: 5-2-16 to 5-6-16
Here are the Final Jeopardy questions and answers for the week of May 2 through May 6, 2016.
Mon, May 2 – Correct answers: 2
From the Greek for "all views", this word was 1st used to describe a large 1787 painting of Edinburgh by artist Robert Barker. show
Tue, May 3 – Correct answers: 0
Symbolic bookends, these 2 neighboring memorials mark the beginning & end of U.S. involvement in World War II. show
Wed, May 4 – Correct answers: 0
Its surface features include ones named for Margaret Mead, Josephine Baker & Cleopatra. show
Thurs, May 5 – Correct answers: 1
In 1855 he wrote, "The public appears disposed to be amused even when they are conscious of being deceived." show
Fri, May 6 – Correct answers: 2
She wrote in her journal in 1867 that a publisher "asked me to write a girls book. Said I'd try." show
If you missed any of the games, click on the date for the recap with the Daily Doubles and a triple stumper or two.
Fikkle Fame voted Tuesday's FJ the hardest of the week. Friday's was the easiest. As for Wednesday's clue, we do agree that the cluewriters could have found a way to leave out the "ones" part, like: Surface features named for Margaret Mead, Josephine Baker & Cleopatra can be found here (or) can be found on it. Whatever, the players didn't think they were asking for the type of surface feature. Here are all the semi-finalists who will compete in the first three games of next week: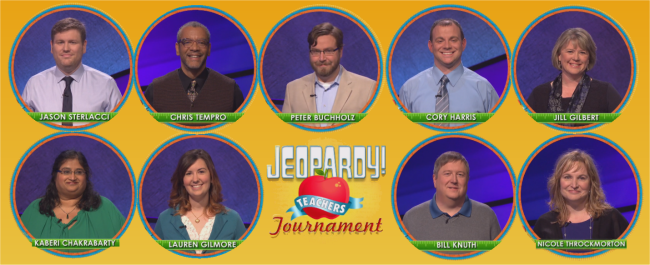 Each game will produce a finalist and, as always, the 3 winners will compete in a 2-day final on Thursday and Friday. The players who went home this week all received $5,000 in addition to the $2,500 grant from Farmer's Insurance. Here is Jeopardy!'s video recap of the quarter-final matches:
Missed the first matches of the #TeachersTournament? Watch the recap and tune in to the semifinals on Monday!https://t.co/zCz3JLSw0K

— Jeopardy! (@Jeopardy) May 7, 2016