Final Jeopardy: Great Britons
The Final Jeopardy question (3/17/2016) in the category "Great Britons" was:
A pair of shoes that he wore when making history in 1954 sold at auction in 2015 for more than $400,000.
3x champ Philip Tiu has now racked up $96,598 with his big nail-biting DD bets. Many are rooting for him to continue winning but these two challengers probably aren't: Gwen Niksic, originally from Chicago, IL; and Chris Horton, originally from Manville, RI.
Happy St. Patrick's Day! Alex Trebek was sporting a nice green tie.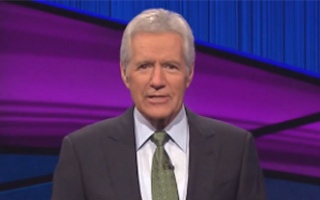 Round 1 Categories: One-Vowel Words – Gershwin Tunes – All Sorts of Sandwiches – Fountains – What's Going on in the News? – Beastly Book Blanks
Philip found the Jeopardy! round Daily Double in "One-Vowel Words" under the $1,000 clue on the very first pick of the round. "Well, you can't wager $11,000 on this Daily Double," Alex quipped, "but anything up to $1,000." He bet the clue's face value and he was RIGHT.
Sir Toby Belch is a character in this Shakespeare comedy with a 2-word, 2-vowel title.  show
Gwen finished in the lead with $5,400. Philip was second with $3,400 and Chris was last with $400.
Round 2 Categories: One-Consonant Words – New Zealand – American Diplomats – Health & Medicine – 2-Word Business Terms – TV Detectives
Chris found the first Daily Double in "American Diplomats" under the $1,600 clue on the 12th pick of the round. In third place with $2,800, he had $9,000 less than Gwen's lead. He bet $2,000 and came up with Gabor. That was WRONG.
This former actress' diplomatic career included stops at the United Nations, Ghana & Czechoslovakia. show
Two clues later, Philip found the last Daily Double in "New Zealand" under the $2,000 clue. He was in second place with $5,000 now, $6,800 less than Gwen's lead. It was the first clue chosen in that category. He made it a true Daily Double and thought it was Wellington. That was WRONG.
Settled in the 1850s by the Canterbury Association of England, it's South Island's largest city. show
Gwen finished in the lead with a runaway $15,000. Chris was next with $4,400. It was so long to Philip at this point because he was in the hole for $400. (Coincidentally, 3-day $96K winner Michael Bilow, whom Philip has been compared with, also wound up in the red in his 4th game.)
Only ONE of the remaining contestants got Final Jeopardy! right.
The spikes worn by Sir Roger Bannister when he ran the first sub-four-minute mile in 3 minutes 59.4 seconds were sold at auction for £220,000 on Thursday, September 10, 2015. Bannister performed the record-breaking feat at Oxford's Iffley Road track on May 6, 1954 when he was 25 years old. "Kate Summers, from Christie's, said: 'When bidding opened there was great anticipation. After two-and-a-half minutes of bidding, they were sold to an anonymous buyer on the telephone.'" In an earlier May auction, the stopwatch used to time the race sold for £20,000. (BBC News)
Chris got it right and doubled his score to $8,800.
Gwen had a little trouble remembering the name and wrote down "Barrister". She lost her modest $1,000 bet and won the match with the $14,000 she had left. Congrats, Gwen! You're the new Jeopardy! champ.

None of the players knew what show these two TV detectives are from:
($1600) Portland Detective Nick Burkhardt
($2000) Star City Police Detective Quentin Lance
2 years ago: Only ONE of the players got this FJ in "Other Political Parties"
In 1908 this animal appropriately became the mascot of the Prohibition Party. show