American Idol Top 6 Performance Show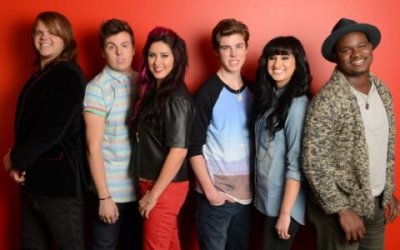 Tonight, the Top 6 sang two songs each: one in rock and one in country. Randy had a cat with him — the dogg with the cat. Jennifer Lopez got "goosies" twice. Alex and CJ got panned the most while Jena and Caleb put in the strongest performances.
Jena Irene
Rock – Barracuda (Heart) – Jena got high praise for her performance with just a little bit of that cutting loose stuff as all the judges agreed that any little bit of showmanship (at least that's our guess as to what they mean) will help Jena nail the top spot. We don't know if you really need to be flipping the hair around, Jena. We love you the way you are.
Country – So Small (Carrie Underwood) – Keith Urban and Jennifer Lopez (J-Lo) thought she was the bee's knees but Harry Connick, Jr. (HCJ) disagreed with some folderol (look it up) about ornaments not matching what she was singing. He didn't think that his bad review was going to matter, considering her fantastic voice, consistent performances and all that audience love. We agree. His bad review doesn't matter.
Caleb Johnson
Rock: Sting Me (Black Crowes) – Caleb was in his wheelhouse and the judges gave him the high praise he deserved. J-Lo said it was some real rock 'n roll, adding "… when you lost that microphone and it went rolling and you caught it and stayed on the beat. It was just a mark of a true performer." Caleb is that — a born rocker.
Country: – Undo It (Carrie Underwood) – J-Lo and HCJ compared it to his first performance — unfavorably, although HCJ did say if it was the only song Caleb had done, it was still a great performance. We thought that was a bit unfair. Keith thought it was great and said he can't wait to see what country song Caleb does later.
Jessica Meuse
Rock – Somebody To Love (Jefferson Airplane) – HCJ was satisfied with her rhythm but J-Lo and Keith found it somewhat lacking in terms of energy and a "release" that Keith can't quite define. They all agreed her vocals were strong.
Country – Jolene (Dolly Parton) – The judges all thought it was a strong vocal performance. Keith was sorry to say he hated the arrangement. We really only like this song by Dolly Parton and think everybody else should just not even sing it.
Sam Woolf
Rock – It's Time (Imagine Dragons) – Sam got high marks for the song choice, the performance and vocals. HCJ was really proud that Sam was "blossoming."
Country – You're Still The One (Shania Twain) – Keith thought that all Sam needs to do is relax. J-Lo raved about how cute he is and oh, that blushing! HCJ thought he needs to worry less about singing so perfectly so he can connect with the lyrics.
Alex Preston
Rock – Animal (Neon Trees) – Keith felt the song and band were dominating Alex and J-Lo agreed that there was a little something missing. HCJ thought Alex ought to get a pass because he's always on top and it was the first time he did an up-tempo song, even if it wasn't his best.
Country – Always On My Mind (Willie Nelson) – Harry and J-Lo thought he sang it beautifully. Keith would have liked little more heartbreak. "I heard it, but I didn't feel it," he said.
CJ Harris
Rock: America Woman (The Guess Who) – HCJ really made us and maybe CJ think he was going to say it sucked by demanding to know how CJ felt about his performance! Terrible thing to do to the guy. Then HCJ said he thought it was a good song choice but brought up his intonation. J-Lo thought CJ pulled it off after a shaky start. Keith thought the song choice didn't work because it's a "bad ass guy" song while CJ is a sweet guy who would need to pull that emotion from elsewhere. Funny, we never got anger from the original song. It was more like contempt.
Country – Whatever It Is (Zak Brown Band) – Back in his own genre, J-Lo didn't think he hit the mark with this one. Keith stressed the importance of song choice at this point and HCJ told CJ if he was lucky enough to stick around until next week, he needs to find something he can really kill. CJ was still glad he sang the song. He chose it specifically for a young girl back home who recently passed away.
So it is looking like Jessica Meuse redeemed herself this week while Alex Preston may find himself in the Bottom 2 for the first time. CJ will probably be there too and is the most likely to go home. Oh, and about those "goosies" — J-Lo got them the first time on Sam's rock number and the second on Jena's country tune.