Yesterday on the Wheel of Fortune
Here's the bonus puzzle from Thursday, July 20, 2017 on Wheel of Fortune. This week, Wheel is showing the matches from the third week of February 2017.
Wheel is currently showing re-runs. We are comparing the scores to the Jeopardy! win from the original air date.
Thu 7-20-17 Wheel: $15,490 + $34,000
(orig. air date 2-23-17) On Jeopardy: $24,945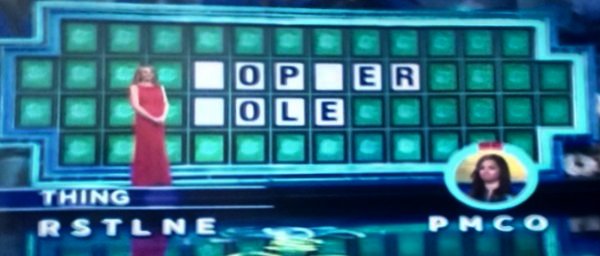 Sheana Turner got a P and an O from her choices, just like Brandy did yesterday. And just like, Brandy, that was all she needed to solve this one. She won an extra $34,000. Her total: $49,490
SOLUTIONS: show
Mon 7-17-17 Wheel: $24,000 + $34,000
(orig. air date 2-20-17) On Jeopardy: $22,801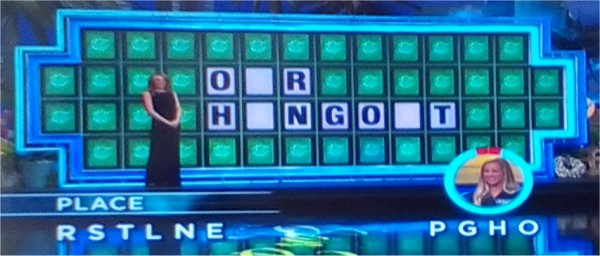 Kelly Pergowitz didn't get the P out of her letter picks, but she didn't need it once all her other picks appeared. All she had to do was say it to pick up an extra $34K, more than doubling her total haul to $58,000.
Tue 7-18-17 Wheel: $20,650 + $0
(orig. air date 2-21-17) On Jeopardy: $7,400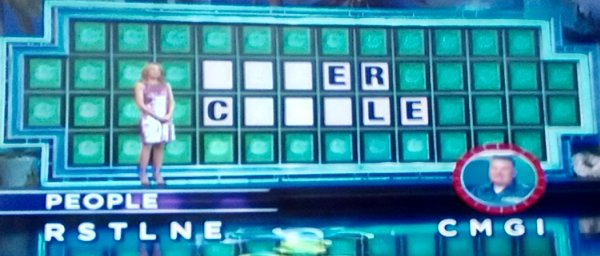 Jason Kugler only got a C out of his picks. That gave him the last word of the puzzle, but he couldn't get a handle on the first word in time to pick up an extra $40,000.
Wed 7-19-17 Wheel: $21,100 + $40,000
(orig. air date 2-22-17) On Jeopardy: $15,989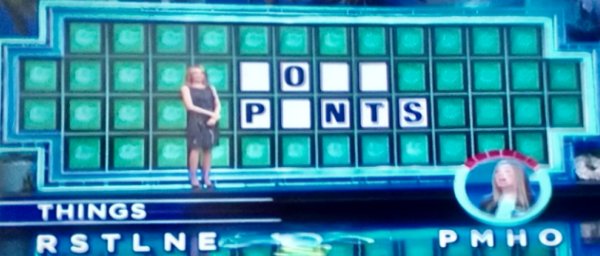 Brandy Holmes picked up a P and an O from her choices. She wasn't P-O'ed when she was able to rapidly sound the puzzle out and win another $40,000. Her total: $61,100