Yesterday on the Wheel of Fortune
Here's the bonus puzzle from Friday, June 9, 2017 on Wheel of Fortune.
Fri 6-9-17 Wheel: $16,350 + $0 On Jeopardy: $23,601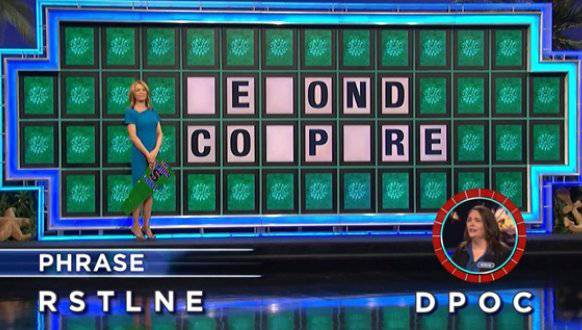 For the second time this week, the $1 million was in the wheel. A solve looked promising when ALL of Kris Peterson's letter picks turned up in the puzzle. But 10 seconds just weren't enough for her to figure it out. So there was some consolation in losing a Jeep Wrangler. It took Pat Sajak about 3 tries to find the million dollar card in the wheel, even with directions!
SOLUTIONS: show
That was the very last bonus round of Season 34. Click here for the whole week. Wheel of Fortune will be in reruns until it returns with Season 35 in September and we'll be taking a break on this post until then.