U.S. Women Finish 1-2-3 in 100 Meter Hurdles at Rio
August 17th was a pretty good day in track and field for the U.S. women's team. Torie Bowie, who won silver in the 100 meters, added a bronze in the 200 meters. Jamaica's Elaine Thompson took the gold in both events. Tianna Bartoletta, who won the world championship in the long jump in 2005 and 2015 but had yet to medal in the event in the Olympics, won the gold with a personal best 7.17 meters, or about 23 ½ feet. Defending gold medalist Brittney Reese took the silver.
They saved the best for last. Brianna Rollins, Nia Ali, and Kristi Castlin swept all three medals in the 100 meter hurdles. It was the first time U.S. women had ever swept a track event at any Olympic games.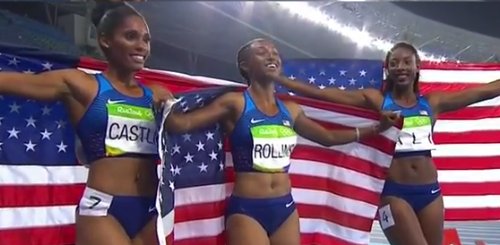 On the men's side, Evan Jager took the silver in the 3000 meter steeplechase, the first time an American had won a medal in the event since 1984.