Final Jeopardy: U.S. History
The Final Jeopardy question (5/20/2016) in the category "U.S. History" was:
In 1790 a deal made Washington the nation's capital; the room where it happened was at Jefferson's house & negotiators included Madison & this cabinet member.
The last game of Power Players Week is here. Today's players are Elle.com's editor-at-large, Melissa Harris-Perry, playing for Girls for Gender Equality; CNN political analyst David Gregory, playing for Martha's Table; and "Mad Men" creator & producer Matthew Weiner, playing for Alexandria House.
Special guest: Washington D.C. mayor Muriel Bowser read today's final clue.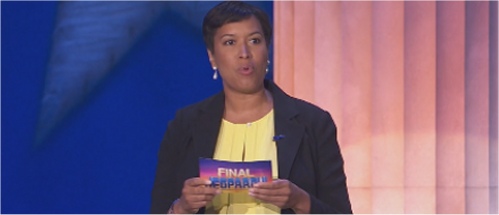 Round 1 Categories: Not Great, Bob! – Women in Charge – On Cable – It Happened in the Bible – Talking "Point"s – An Eco-Category
Melissa found the Jeopardy! round Daily Double in "Women in Charge" under the $800 clue on the 5th pick of the round. She was in second place with $400, $600 less than Matthew's lead. She chose to risk only what she had and she was RIGHT.
As CEO of Sam's Club, Rosalind Brewer became the first woman & the first African American to head a unit of this corp.  show
Melissa finished in the lead with $3,400. David and Matthew were tied in second place with $2,200 each.
Round 2 Categories: Bridges – Organizations – On the Bookshelf – Mad Men – '90s Music – Echo Category
Matthew found the first Daily Double in "On the Bookshelf" under the $1600 clue on the 14th pick. He was in a tie for the lead with David. They both had $5,400 now, $400 more than Melissa. He bet $3,000 and he was RIGHT.
A line from Ecclesiastes inspired the title of this Hemingway novel about expatriates in France & Spain. show
Matthew found the last Daily Double in "Organizations" under the $1,600 clue. It proved to be the last clue played with only one clue left after it. He had a runaway lead with $15,600, $9,800 more than David in second place. He went with $3,000 again but could not come up with a response so he was WRONG.
The late Julian Bond was its chairman from 1998 to 2010. show
Matthew finished in the lead with $12,600, still a runaway. David was next with $5,800 and Melissa was in third place with $5,000.
ALL of the contestants got Final Jeopardy! right.
"The Residence Act of July 16, 1790 put the nation's capital in current-day Washington as part of plan to appease pro-slavery states who feared a northern capital as being too sympathetic to abolitionists. The City of Brotherly Love became the ex-capital for several reasons: the machinations of Alexander Hamilton and Thomas Jefferson; the compromise over slavery; a concern about public health; and a grudge against the Pennsylvania state government were all factors in the move." (Constitution Daily: How Philadelphia lost the nation's capital to Washington)
Melissa bet $1,000 and finished with $6,000.
David bet it all. That brought him over the $10K guarantee. He finished with $11,800.
Matthew bet $900 bet so he ended up with $13,500 and his charity will get $50,000.
Yes, we are anxious to get Buzzy back next week but we want to give the Power Players their props for raising over $350,000 for charity. Good work!

First we have the $1,000 "Women in Charge" reversal in Round 1: Beginning in 1997 Arizona had 3 consecutive women in charge: Jane Hull, Janet Napolitano & her. David said "Janet Brewer" but that's not her real first name.
We also have 2 triple stumpers from the second round:
Organizations ($1200) In 1980 Bruce Murray, Louis Friedman & this Cornell Univ. astronomer founded the planetary society
Echo Category ($800) In a 1939 movie this dog is in danger of being put down after biting a neighbor
2 years ago: Only ONE of the players got this FJ in "The 1960s"
In his last speech, he mentioned local newsmakers of the day, including his friend Cesar Chavez and Don Drysdale. show