Celebrity Apprentice Finale: Don't Believe Your Eyes?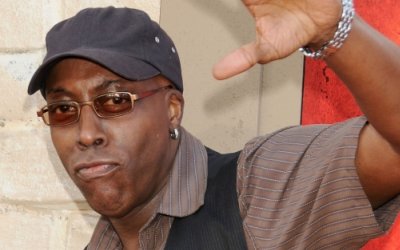 The live finale of Celebrity Apprentice 5 (May 20, 2012) had a few believable moments — like very few. And when it got down to the nitty gritty and the winner was announced, you were just like, huh? What the hell just happened there?
Donald Trump himself opened the show to let us know what a tough decision it was going to be to select a winner between Clay Aiken and Arsenio Hall. Mario Andretti was outside in a race car to take him to the Musem of Natural History with this advice: "Don't mess up your hair." We love Donald Trump!
Trump said they raised over 2 million for charity this season.  A recap of highlights of the season was shown. The celebrities presenting checks to charity, the battles with Lisa and Aubrey, the victories and the firings. Then we resumed where we left off last week with Arsenio and Adam Carolla stressing over the messed up Magic Johnson video; and Clay and Debbie Gibson stressing over the wall mural.
After Adam and Arsenio looked through the entire clip, they are relieved to find a part where Magic is looking directly at the camera, so they will be able to piece that together.
There is a God somewhere, because we found a piece where he's looking forward… ~ Arsenio Hall
Debbie finally gets some email proof that her cousin is no amateur when it comes to wall murals and that aspect of the project finally goes forward.
Trust goes a long way when you're trying to get something done in a time crunch… ~ Debbie Gibson
Trump thanks his family, Ivanka, Eric and Don, Jr. (who's away) for doing a great job this season agreeing with him.
Adam is going to write scripts for Teresa Giudice and Paul Teutul Sr. Lisa Lampanelli approves that because, she says, Teresa and Paul can't ad lib. Adam also wants to roast Arsenio a little but Arsenio says, "how about what I want?"
Clay is not taking the soft approach to managing his task. He's got his finger on everything and that doesn't sit well with Aubrey O'Day.
… he's trying to step on everyone's toes so he feels like he's the man in charge… in his words, we all need to remember that it's Clay's show, but if I wasn't here, he wouldn't have a show. ~ Aubrey O'Day
Back to Donald Trump, the remaining fired celebrities return: Victoria Gotti, George Takei, Tia Carrere, Patricia Velasquez, Lou Ferrigno and our favorite, Dayana Mendoza. We love you, Dayana.
It was quite amusing to watch the 110% recap on Lou, who recently had surgery. He related that he can hear without a hearing aid for the first time in his life. He showed himself to be a good sport about the 110% jokes and gave Donald Trump a $41,000 check for his charity, Muscular Dystrophy. Lou's wife, Carla, and his daughter, Shanna, cheered from the audience.
I thought he was coming over to fight me. ~ Donald Trump
Dayana could offer nothing positive to say about Lisa because she believed Lisa showed no respect for herself, but she thanked Trump for the opportunity to be on the show. Victoria said Aubrey behaved like a cartoon character and Lisa was crude, rude and classless. Tia complained about the Wicked Witch Clique as well, and said the fact that there are two men in the finale speaks volumes. Patricia was sad about not winning for her charity, but committed to continuing to help. George Takei was thankful for his experience because even though he lost, others took up the banner and contributed $10,000 to his charity. George personally chipped in $50,000.
When it's time to sell tickets, Clay had much more people show up to see him than Arsenio had.
… All my people are on Colored People Time They gonna be a little late. Even my white friends are on C.P. time. ~ Arsenio Hall
Right off the bat, Clay gets a $20,000 check bundled by his fans to buy one ticket. … then $10,000 from Kelly Clarkson, $10,000 from David Foster. Orel "Bulldog" Hershiser shows up in person with $20,000. Bam! as Dee Snider said.
On Team Arsenio, $5,000 comes in from Jay Leno, $5,000 from Chris Rock; $10,000 from Eddie Murphy; $5,000 from George Lopez, $10,000 from Jimmy Kimmel and another $10,000 from the Andretti family, delivered by Marco, that Arsenio started throwing all over the place.
All my boys were stepping up … I'm happy … ~ Arsenio Hall
Lisa hired a drag queen to look like her and they waltzed over to Clay's camp to donate $10,000 to Team Clay because "Clay Aiken made my life happy here."
At Clay's carnival event, everyone's playing games, Debbie's rocking a hula hoop and balancing spinning plates on sticks, when Donald Trump walks in. Aubrey tries to horn in and lead Trump around but Clay puts the kabosh on her. Arsenio has an adult-themed party. Everyone is mingling and drinking cocktails when Donald and "his entire posse" shows up. Then Arsenio walks in with his date — Whoopi Goldberg.
Before we get to the live shows, Trump speaks to the other fired celebrities. Aubrey (now sporting blonde hair) claims she's been "doubted and under-recognized a lot" and that's what drives her. Lisa laughs her head off as clips of her foul language and abusive behavior are shown. Lisa laughs it off with her 50 year old menopausal shtick.
I need more hormone therapy than Chaz Bono. Help me! ~ Lisa Lampanelli
Dayana is given a big hand for her impersonation of Lisa's crying in the boardroom. Lisa says she can dish it out and she can take it; that's why she laughed her ass off (she actually said laughed her 'a' off – LOL!!!). Trump told Teresa that Adam called her naive.
She thinks that a brand of douche. ~ Adam Carolla
Dee was applauded for continuing to work with a broken finger. Paul revealed that the personality he's shown on Celebrity Apprentice is the real him. Penn said Clay picked him because Clay wanted to win.
Finally, we get to see the events. The PSA clips are shown first. Clay's is very good with the children as the stars, even though Clay seemed to be speaking very quickly to get everything he wanted to say in. Arsenio's 80s looks were a lot better than we thought, and they worked that Magic Johnson thing out fairly well.  Arsenio's live act turned out to be a roast after all. Adam took a few shots at Trump, not neglecting to include the obligatory hair joke. Paul comes out and proves he can ad lib by calling Adam a dick. And that was only the start of the inappropriate material because Lisa was still to come. We guess this was okay though because the Trump posse was laughing and there were no sponsors to offend in this task. Clay laughed at Arsenio's final joke about changing his childhood astronaut plans because a black man doesn't want to call back to earth and say "Yes, Nasa,. No, Nasa."
For those who didn't get the 'Yes, Nasa and No, Nasa' joke, substitute Massa for Nasa — much too close to the stereotypical responses attributed to slaves for comfort.
Clay's live show opened with Dee and Debbie singing "Baby Love."
If you'd've told me 20 years ago that one day, I'd be on stage doing steps with Debbie Gibson, I would have punched you in the nose. ~ Dee Snider
Aubrey does a horrid "I Will Survive," with a side reveal that she shot a direct look at Donald Trump on the line "you did me wrong," because "everybody knows I should have been in the Final Two." (You have to remember that Aubrey thinks she is 'everybody'). Then Penn came out doing some nutty dance. No one seemed to know why so Aubrey explained he was her "lovely stalker." LOL. Penn is so BIG. Penn was then joined onstage by his partner Teller for some entertaining magic that the audience totally dug. Dee and Debbie returned for a hit sing-off of "Shake Your Love" and "We're Not Gonna Take It." Clay finished up with "I Had the Time of My Life" joined by Aubrey, who really did look like a cartoon character. The audience thoroughly enjoyed the entire show. At this point, even though we wanted Team Arsenio to win, we had to admit that Clay's show was the bomb.
In the boardroom, Lisa was commended for dropping $10K on the opposite team. Much to our surprise, no one asked Lou what he thought about that. Arsenio, it was revealed, raised $167,100 and we're waiting for them to say that Clay raised $177,100 (which would have meant he won the money amount because of Lisa). But Clay raised a whopping $301,500, putting Arsenio to shame. Trump points out that the money amount is only a part of the total decision and there's something to be said for Arsenio never losing a task.
After a lot more filler including the usual banter with the celebrities, the usual consultation with the Trump progeny, and a performance of "Lean on Me" by Clay and Arsenio and a choir that sang better than both of them, the winner was announced and it was Arsenio Hall.
Trump gave no reason at all, and you just feel like Clay was without a doubt the winner of this last task. Well, he was!! — even if he didn't get credit for it. So this win puts Arsenio at the top of the heap, although he was actually behind Clay in total money raised. Paul Teutul Sr. raised more than either of them during the season.
Here are the final amounts raised by each celebrity this season:
Arsenio Hall ………. $772,000
Paul Teutul, Sr. ……$494,082
Clay Aiken ………… $361,000
Dee Snider ………… $326,000
Lisa Lampanelli ….. $130,000
Lou Ferrigno ………..$ 91,000
Teresa Giudice ……..$ 70,000
Aubrey O'Day …….. $ 50,000
Debbie Gibson …….. $ 50,000
Penn Jillette ……….. $ 50,000
Dayana Mendoza ….. $ 30,000