Boardwalk Empire: Margaret Schroeder Thompson
Margaret Catherine Sheila Rohan Schroeder Thompson a character in Boardwalk Empire. She became Nucky Thompson's wife in Season 2.
Favorite BE Characters:
Vote for Margaret
Margaret is portrayed by actress Kelly Macdonald, also known for:
The Merry Gentleman (2008)
No Country for Old Men (2007)
Nanny McPhee (2005)
Margaret Schroeder fled her native Ireland after disgracing her family with an out-of-wedlock pregnancy. Rather than be shipped off to the Magdalens, she stole passage money, but miscarried the child on the voyage. In America, she married abusive alcoholic, Hans Schroeder. They had two children and one on the way when we met her in "Boardwalk Empire."
Family:
2nd Husband: Nucky Thompson
(Steve Buscemi)
Son: Theodore "Teddy"  Schroeder
(Declan and Rory McTigue
Daughter: Emily Schroeder
(Lucy and Josie Gallina)
Brother: Eamonn Rohan (Tony Curran)
Sister: Nuala (Shannon Garland)
Sister: Beth (Nadia Alexander)
Sister: Aylish (or Eilish) (Emma Kenney)
Associations:
Husband's Manservant: Eddie Kessler (Anthony Laciura)
Spiritual Advisor: Father Brennan (Michael Cumpsty)
Household help: Katie (Heather Lind)
Children's nanny: Lillian (Jacqueline Pennewill)
Cook: Pauline (quit in Season 2) (Amy Warren)
Son's Teacher: Sister Bernice (Marceline Hugot)
Known Lovers
Husband's Bodyguard: Owen Sleater (Charlie Cox)
The Barrister's Boy (Irish Affair)
In Season 1, pregnant Margaret Schroeder seeks assistance from Nucky Thompson in finding better work for her husband, Hans. He gives her money but her husband beats her and forces her to admit where she got it. She suffers a miscarriage. Hans takes the money to the casino and picks a fight with Nucky. Jimmy Darmody pulls off a robbery, committing murder in the process.. Nucky gets advice from The Commodore to frame someone for the crimes. Hans Schroeder is the perfect patsy. Nucky visits the widow in the hospital with flowers.  Nucky's brother, Eli, takes Margaret more money and Federal Agent Nelson Van Alden investigates the crime in the woods and Hans Schroeder's death.
Nucky gets Margaret a job as a shopgirl at Belle Femme. She makes plans to seduce Nucky after a dance with him at his "surprise" birthday party. She steals a camisole from Belle Femme so she'll look good. When Nucky disses her gift of Irish soda bread in, Margaret squeals on him to Van Alden. Nucky realizes Margaret will make a better ally than an enemy. He goes to her home and makes love to her.
Season 1 Characters:
1st Husband: Hans Schroeder, deceased (Joe Sikora)
Neighbor: Edith (Barbara Tirrell)
Mrs. McGarry, Temperance League (Dana Ivey)
Former employer: Isabelle Jeunet (Anna Katarina)
Friend/Rival: Annabelle (Megan Reinking)
Friend/Guest: Nan Britton (Virginia Kull)
Rival: Lucy Danziger, Nucky's old girlfriend (Paz de la Huerta)
Margaret tells Mrs. McGarry that "a man" has made her an offer to "provide" and McGarry advises her on birth control. Nucky's manservant Eddie moves Margaret and her kids to better accommodations. Nucky ex-girlfriend confronts Margaret and is slapped down.
Nucky charms Margaret with a bug poem recital. He deals with the sale of his father's home in a most unorthodox way and brings Margaret's son, Teddy, along. The child sees him set the house on fire.
In Chicago on business, Nucky learns all hell has broke loose back home. He enlists Margaret's aid in retrieving his incriminating ledger. As a political favor, he brings Warren Harding's mistress, Nan Britton, and their illegitimate child, back to Atlantic City and foists Nan off on Margaret.  Margaret does Mme. Jeunet a favor and, in return, gets the alice-blue gown Nan Britton had her eye on. She wears it to dinner with Nucky and the Baders and it ends up a bloody mess.
Nucky moves Jimmy's friend Richard Harrow in to protect Margaret and her children, but later puts them at ease. Van Alden pays Margaret a visit and drops a bombshell. Margaret overhears Annabelle asking Nucky for money and learns they were once lovers. At home, the Lysol hits the fan. Margaret leaves Nucky, but after a visit to the cemetery and a fortune foretelling destitution, she makes up with him.
More Boardwalk Empire characters: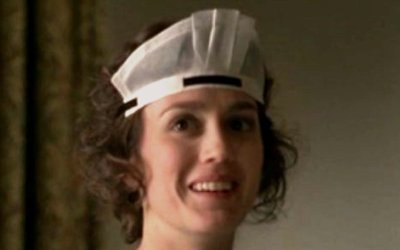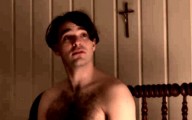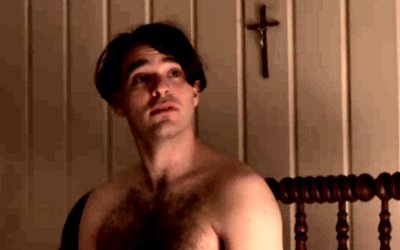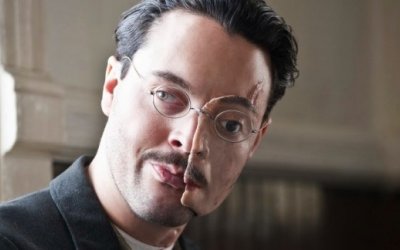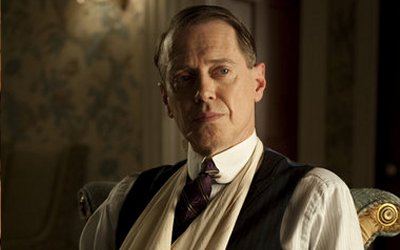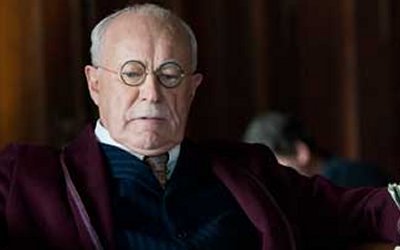 In Season 2, Teddy is acting out at school and Margaret gets a bit of a lecture from Sister Bernice. Nucky get arrested. Margaret gets some money and incriminating evidence out of Nucky's office while he is in jail.  She also meets Owen Sleater, who is checking her house to make sure it's safe for Irish nationalist John McGarrigle's dinner visit.  The Pinkerton Agency sends her a report on her relatives in Brooklyn and Margaret gets Katie to call them up. When Teddy makes his First Communion, Father Brennan wants Margaret to make a confession too. She confesses an attraction to Owen Sleater. Margaret goes to visit her brother and sisters in Brooklyn. Her brother's coldness deeply upsets her. She consoles herself with a romp in the hay with Owen, but informs him it's a one-time matinee they will never speak of.
Nucky asks Teddy and Emily to call him Dad. As Nucky makes plan to visit Ireland on business, Margaret tends to Emily, who is not feeling well.  The child has contracted polio. Devastated, Margaret believes it is God's punishment and seeks salvation by giving her jewelry and money she stole from Nucky to Father Brennan.
Margaret gets subpoenaed by Esther Randolph and confronts Nucky about their sins. In the Season 2 finale, Margaret marries Nucky and promptly signs Nucky's land over to the church.