2015 TOC: Who Already Beat Who?
Only ONE MORE WEEK before the 2015 Tournament of Champions begins! We have already looked at various aspects of the players' stats. Now let's take a look at what players have already faced off against each other.
In this post, we will also see fondly remembered 3x champs. Since Alex Trebek gave us a lot of "iffy" talk over the last 2 weeks, it wouldn't be too much of a surprise if one of them makes an appearance in the TOC.
Here are the players who have already been in a match together and we will be very surprised if they are put together in a quarter-final: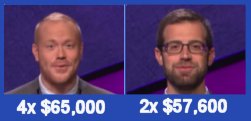 5x champ Vaughn Winchell was defeated by 4x champ Elliot Yates in the 1/2/2015 match. Elliot was then defeated on 1/15/2015 by 5x champ John Schultz.

6x champ Kerry Greene put an end to 3x champ Michael Bilow's run on 4/1/2015.
Here's who beat the other champs:
As previously mentioned in 2015 TOC Runaways, 4x champ Catherine Hardee was beaten by Elisa Korb on 9/29/2014, the day she returned with co-champ Alan Lange.
On 3/18/2015, 5x champ Kristin Sausville lost to Andrea Keleher who only won that one game.
On 4/9/15, 6x champ Kerry Greene was defeated by Chris Hurt, and 6x champ Alex Jacob defeated him the next day.
On 5/4/2015, 7x champ Greg Seroka lost to 3x champ Scott Ylinen who lost to 5x champ Andrew Haringer 4 games later.
On 5/21/2015, Andrew Haringer lost to 3x champ Choyon Mandrekar, who lost his fourth game to 5x champ Dan Feitel
5x champ Brennan Bushee won his first game when he beat 3x champ Darren Harris-Fain on 6/15/15, and lost his 6th game to Sacha Samotin on 6/22/15, Sacha's only win.
5x champ Scott Lord lost his 6th game to Suzanne Vito on her only win.
13x champ Matt Jackson lost his 14th game to Michael Baker on 10/14/2015, his only win.
Teachers Tournament champ Jennifer Giles has not lost any games yet. So she is the only one who will be undefeated if she wins the TOC.
It will also be interesting to see who gets in the quarter-final games with Matt Jackson and Alex Jacob since most viewers surmise that the producers want those two to advance and won't put them in the same quarter-final.