Twitterers Quote Liz Taylor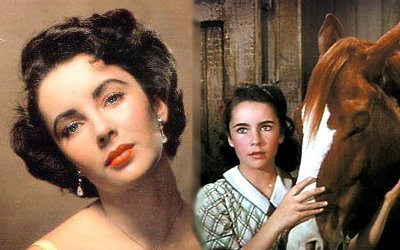 Twitter is ablaze today in the wake of learning of the sudden death of 79-year-old legendary Hollywood beauty, Elizabeth Taylor. Yes, there is a smattering of disrespectful tweeters who think they are cute, although they are unaware of their own loss by never having seen a Liz Taylor movie.
But by and large, Twitter is paying its respects to the London born violet-eyed goddess of the silver screen.
Our own favorite Liz Taylor quote is in the movie "Who's Afraid of Virginia Woolf," when Richard Burton calls to her up the stairs and she brays back: "Whaddya want?"  Here is a clip from "Virginia Woolf" where as Martha, Liz does a Bette Davis impression of Bette's famous line from "Beyond the Forest" — "What a dump."
src="http://www.youtube.com/v/VQeJr65CBVE?fs=1&hl=en_US&rel=0″ allowscriptaccess="always" allowfullscreen="true">
Here are some of the quotes tweeted.
Valerie Elaine: "The problem with people who have no vices is that you can be sure they're going to have some pretty annoying virtues." RIP Elizabeth Taylor
Lord_Voldemort7: "When people say, 'She's got everything', I've got one answer – I haven't had tomorrow." RIP Elizabeth Taylor
Clubbles: ""I sashay up to a man, but I walk up to a woman." R.I.P. Elizabeth Taylor"
_AmberRo_: A woman has got to love a bad man once or twice in her life to be thankful for a good one.~Elizabeth Taylor
joeybroyles: "Give. Remember always to give. That is the thing that will make you grow." – Elizabeth Taylor
That particular quote was a tweet from Dame Elizabeth on July 22, 2010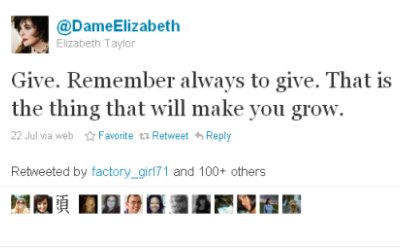 SDCBrianGeorge: "Success is a great deodorant." – Elizabeth Taylor
1TreeHillQuotes: "It is bad enough that people are dying of AIDS, but no one should die of ignorance." ~Elizabeth Taylor
Lisa_Diggs: I feel very adventurous. There are so many doors to be opened, and I'm not afraid to look behind them. -Elizabeth Taylor
Joy Behar tweeted a helpful link for those who wish to make a donation in Elizabeth's name: "Elizabeth Taylor's family is asking in lieu of flowers, that you contribute to the Elizabeth Taylor AIDS Foundation:  //bit.ly/hRQ3ji
The HuffPost has this ironic article: Elizabeth Taylor Outlives Her NYT Obituary Writer Mel Gussow.  It should only happen to all media ghouls!