Supporting Cast of Eldorado – Boardwalk Empire
Here are some of the actors who appeared in "Eldorado", Episode 8 of Season 5 of Boardwalk Empire (10/26/2014) — both the season and the series finale.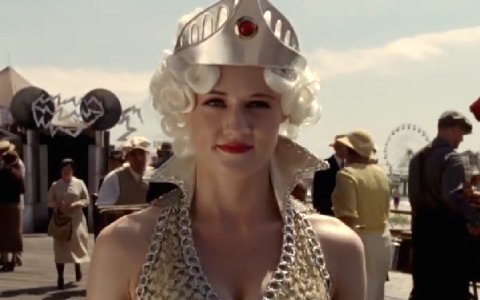 Rachel Kenney played the lady on the boardwalk from the future. Nucky thought she was some sort of genie. She gets him to go into the tent because "the only way to knowledge is through experience," and there he got a glimpse into a future he will never see in the form of a flickering television screen on which the futuristic lady sings "Twinkle Twinkle Little Star".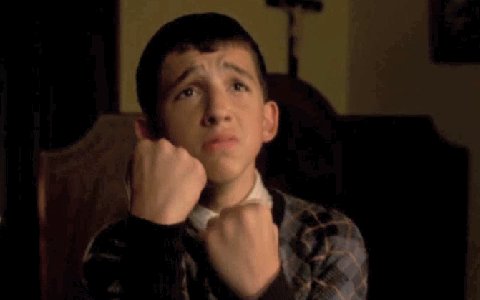 Salvatore Rossi played Sonny Capone. Terence Winter says in Inside the Episode that the most poignant scene of the series for him was the Gillian (Gretchen Mol) and Nucky meeting in "El Dorado". For many, the most poignant scene of the final episode was this one where Sonny learns that his buddy and his dad, Al Capone (Stephen Graham), is going away and makes the "put up your dukes" gesture as Capone is bout to exit his room. Capone comes back and they hug.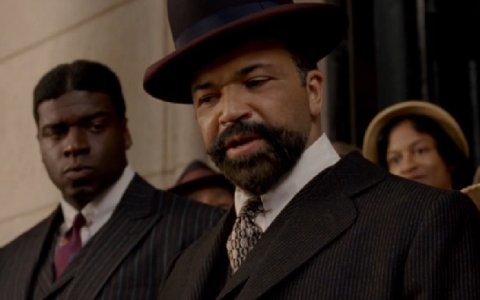 This was the third appearance for Stephen Hill as Clarence, right-hand man to Valentin Narcisse (Jeffrey Wright). The last thing Clarence (and everybody else, for that matter) got to hear Narcisse say was verse 4 from Ecclesiastes 1: "One generation passeth away, another generation cometh. But the Earth abideth forever." We're not too sure if that was Narcisse's voice adding half of verse 5 before the shots rang out: "the sun also ariseth, and the sun goeth down, and hasteth to his place where he arose."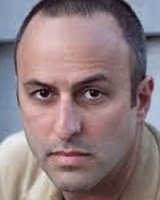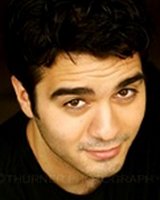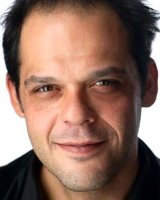 Ethan Herschenfeld made his second appearance as fictional gangster, Pinky Rabinowitz. Luciano and Lanksy did give him Atlantic City to run and there he was at the Old Rumpus when Nucky showed up to collect his belongings, complaining about the dancers. Amadeo Fusca (Joe Bonanno) and Salvatore Inzerillo (Tommy Gagliardi) played two of the dons at Luciano's round table.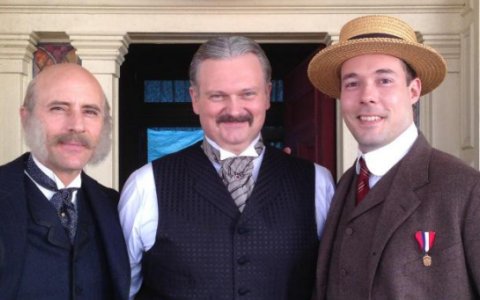 We were finally able to pin down Jordan Lage as Leander Whitlock in the flashbacks via this pic on his twitter. Here he is with John Ellison Conlee as the Commodore and Scott Moreau as that "backslapping bootlicker", Jim Neary.
Other notes:
Also in the cast of "Eldorado"
Domenick Lombardozzi – Ralph Capone
Matt Lescher – Joseph Kennedy
Travis Tope – Joe Harper / Tommy Darmody
Michael Zegen – Benny Siegel
John C. Vennema – Lawrence Conors
Michael Siberry – Sen. Wendell Lloyd
Marcella Lentz-Pope – Mae Capone
Louis Cancelmi – Mike D'Angelo
Michael Countryman – Frank Wilson
Jack Koenig – Al Capone's Lawyer
Samantha Buck – Apartment Hunting Wife
Joseph Huffman – Stockbroker
Brian Silliman – Photographer #1
Mary McCann – Matron
Saint Marino – Capone gang member
Christopher McLinden – Robert St. John
Jeffrey Schechter – reporter, Lou Grossman
Danny Wolohan – Treasury Agent
Jessica Swesey – Dancer
Also in the Flashback Cast:
Marc Pickering – Deputy Sheriff Nucky Thompson
Maya Kazan – Mabel Thompson
Madeleine Rose Yen – Young Gillian
Ian Hart – Ethan Thompson
Erin Dilly – Eleonore Thompson
Ryan Dinning – Eli Thompson
Madelyn Barkocy – Neptune's Consort
Victoria Dennis – Petal Thrower
Nolan Lyons – Young Nucky
Katherine LaFountain – School Girl
Regan Lutz – School Girl
Destiny Cruz – School Girl
Madyson Pellegrino – School Girl
Julia Losner
Katence A. Lucas
Roles not identified so far:
Paul Fitzgerald
Richard Bekins
Fred Arsenault
Greg Oliver Bodine
Joseph Byrne
Dustin Charles
Sheffield Chastain
Brian Myers Cooper
Matt Harrington
Vincent Ingrisano
Bryonna Kristoferson
Robert Langdon Lloyd
Issabelle Arley Palladino
Kevin Pariseau
David Rossmer
Alicia Ruggerio
Thomas Schall
David Stam
Shane Tunney
John Virag
Mia C. Vogt
Pernell Walker
Christina Wright