Elton John Asks Lady Gaga to Be Twice a Godmother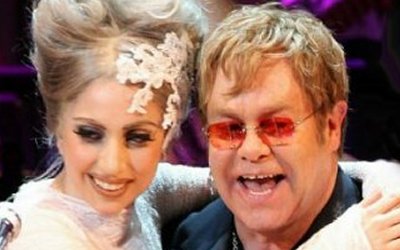 Lady Gaga was given the honor of being the godparent to Elton John and David Furnish's son, Zachary, who is now 2-years- old. John and Furnish have been so delighted with the "Poker Face" singer's godmotherly ways, that they have asked her to accept the honor a second time and become the godmother to their new infant, Elijah.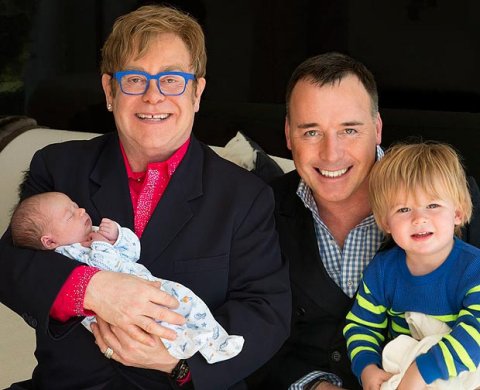 The second-time dads revealed their motivation in an interview with "Extra," when the 66-year-old "Rocket Man" singer said that Gaga is "a great role model. She's young," and he pointed out: "She's been a great godmother to Zachary." Elton John is himself the godfather of John Lennon and Yoko Ono's son, Sean.
And all of that leads us to wonder if this entails a formal baptism ceremony and what religion Elton John is. Interestingly, NNDB lists John as a Christian. But there are many articles around the web where John reportedly stated that he thinks religions should be banned, that they promote hate and that he thinks Jesus was a gay man.
John Lennon is listed on NNDB as Anglican/Episcopalian but many believe he was an atheist based upon his song "Imagine." Here is a quote from Lennon from a 1965 interview: "I believe in God, but not as one thing, not as an old man in the sky. I believe that what people call God is something in all of us. I believe that what Jesus and Mohammed and Buddha and all the rest said was right. It's just that the translations have gone wrong."
Lady Gaga is listed on NNDB as a Roman Catholic. They must be mean what religion these celebrities were brought up with over there. We know that Roman Catholics are allowed to have a non-Catholic stand godparent in their church, as long as one of the godparents is Catholic, but we don't think that they are allowed to stand up as godparent for a child in a different denomination.
We think Elton John's reference to Lady Gaga's youth provides the biggest clue to what he expects from his children's godmother – to watch after the children in the event he and his partner are no longer able to do so.
Whatever it is, you can't deny that Elton John's kids' names come straight out of the Bible!