Chicago Cubs Pitcher Kerry Wood Retires With Style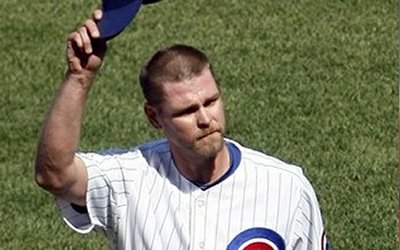 Kerry Wood burst onto the sports scene in 1998 as a hard throwing 20 year old rookie pitcher for the Chicago Cubs.  On May 6th of that year, Wood pitched perhaps the most dominant game ever in the Major Leagues, a 2-0 victory over the Houston Astros.  That day, Wood struck out 20 Astros, walked none, and allowed one hit that glanced off the third baseman's glove.  Many observers felt that should have been called an error.  If it had been, Wood would have had a perfect game.  Wood went 13-6 in his rookie season, with a 3.40 ERA and 233 strikeouts.  He was named the National League Rookie of the year.
However, as is the case with many hard throwers, it wasn't long before Wood developed arm trouble and other injuries.  He missed the entire 1999 season, and parts of several others over the course of his career.  His best year was 2003, when he was 14-11 with a  3.20 ERA and a league leading 266 strikeouts.  After that, injuries limited his starts, and in 2008, the Cubs converted Wood into their closer.  He had 34 saves, and left the Cubs via free agency for the Cleveland Indians .  He was with Cleveland and the New York Yankees before returning to the Cubs in 2011.
Wood pitched decently in relief for a bad 2011 Cubs team, but got off to a terrible start in 2012.  Then on May 18th, word leaked out that Wood planned to retire after one final appearance.  That afternoon, the Cubs opened an interleague series against the cross town Chicago White Sox.  With one out in the eighth inning, Cubs manager Dale Sveum brought in Wood to pitch to the White Sox' Dayan Viciedo.  At that moment, the old Kerry Wood emerged.  He struck out Viciedo on three pitches.
Wood accepted the congratulations of his team mates on the field, tipped his cap to the crowd and walked off.  It was the perfect ending to a career that might have been so much more if it were not for the injuries he sustained and battled back from. " It's just time" Wood said when he officially announced his retirement on May 19th.