Caleb Johnson Wins American Idol 13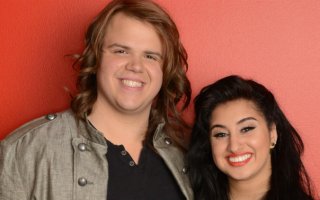 Well, we didn't get to see yesterday's show when it was on and that was sad because we didn't get to make our prediction, although we really didn't need to see the show to do it. We just figured that Caleb would inherit the voters Alex left behind and that would be that. But it was also good because we didn't have to sit through all those commercials or listen to a reprise of "Maybe I'm Amazed" (Caleb) and "I Can't Help Falling in Love With You" (Jena). Those were the two songs that they picked themselves. The judges gave each of them a round, though we're not sure they called a winner on the last round.
And the end result was that Caleb Johnson won. After big hugs with runner-up Jena Irene, Big Caleb was so overcome that he could not sing his song at first, as all of the others who will be on the tour with him crowded on stage and was that his girlfriend who was jumping all over him?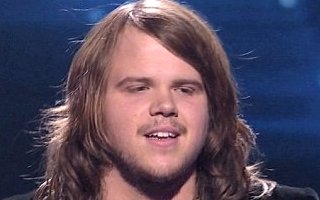 Caleb went through the crowd singing coming up to his dad and hugging him big-time. It's something, ain't it, how Caleb's parents are smaller than him and his huge brother Houston. What were you guys feeding them two?
Here are the highlights of the Finale of American Idol 13:
Caleb and Jena kicked off the show with "We Will Rock You," with Jena singing No Doubt's "Just A Girl" and finishing with the two of them performing "It's Only Love" (Bryan Adams and Tina Turner).
Sam Woolf and Season 11 Idol winner Phillip Phillips dueted on "Home."
Jennifer Nettles sang her song "That Girl." She was then joined by Jessica Meuse and they sang Miley Cyrus' "Wrecking Ball".
Jennifer Lopez performed her new song, "First Love".
Kiss performed "Love Gun" and "Shout It Out Loud" with Caleb, who brought his brother, Houston, onstage.
All the male finalists (Alex, Ben, Caleb, CJ, Dexter and Sam) performed "The Man" with Aloe Blacc, and Demi Lovato joined the Idol girls (Emily, Jena, Jessica, Kristen, Majesty and Malaya)to perform "Don't Really Care" and "Neon Lights".
Jena did a repeat of "Decode" before Paramore joined her onstage for "Ain't It Fun."
John Legend sang "You And I" on the piano, and was then joined by Malaya for an "All Of Me" duet.
Alex sang "Love Someone" with Jason Mraz.
Randy Jackson and Ryan Seacrest's parents apparently had a hand in getting Ryan to start off "Right Here Waiting For You" before Richard Marx came out to perform the song. Okay, that was nuts, but we guess there was no one else for Marx to sing with. Ryan later said he was totally embarrassed, as well he should have been. Don't let them talk you into stuff like this no mo', bro.
Darius Rucker sang "True Believers" and was then joined by CJ and Dexter for "Alright".
They didn't have anyone to sing with Lady Antebellum either, but that was okay. They sang their new song "Bartender."
And finally, J-Lo, Randy, Harry and Keith teamed up for a performance of "True Colors" and "Go Your Own Way."