Behold the Jeopardy! College Championship Trophy
Alex Trebek kicked off the 2-day Final of the 2017 College Championship by showing the Jeopardy! College Championship trophy that was onstage to his left as he first walked out.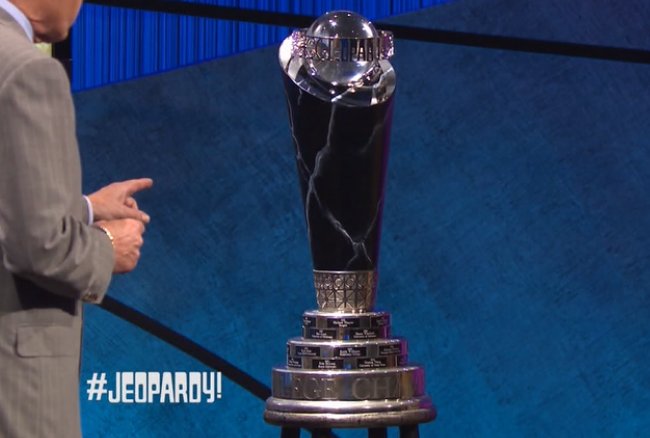 "This championship trophy now contains 28 names of previous winners and the schools they represented. Of those 28, Stanford is the only one that has won before of these three schools represented today. Will Navy make it this time or M.I.T.?"
As he was saying that, they showed a closer view of the names on the trophy and check it out– Keith Willams was front and center!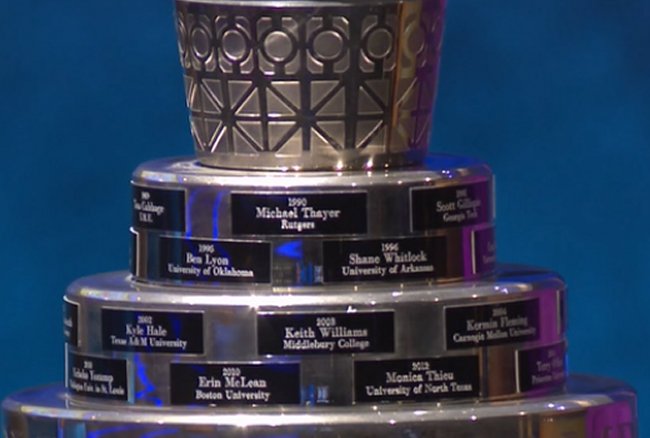 Keith is well-known to Jeopardy! fans for his betting strategy tutorials on The Final Wager. At the time he won the 2003 College Championship, he was a freshman at Middlebury College in Vermont. Could that be a sign that a freshman will win this one, too?
Keith was not the only freshman in his College Championship final but Gary Tse, representing the U.S. Naval Academy, is the only one in the 2017 finals. Viraj Mehta is a junior at Stanford and Lilly Chin is a senior at M.I.T.
We will find out tomorrow!