American Idol Top 3 Performances. Predictions Anyone?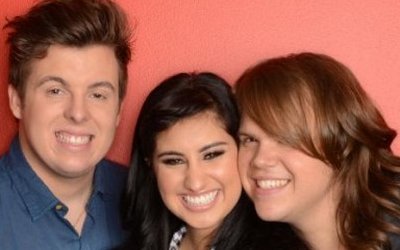 The Top 3 sang 3 songs each on American Idol tonight. They all got pretty high marks for the most part and it's tough to say how this is going to pan out tomorrow night. Caleb had a touch of bronchitis that affected his voice but they had a doctor on hand to give him the okay to sing. Well, you would have never known anything was amiss.
ROUND ONE: RANDY JACKSON PICKS (and was complimented on all of his choices).
Caleb Johnson – NEVER TEAR US APART by INXS.
Keith – You got this blues soul thing in your voice, it's a fusion of blues, rock and roll, soul, it's all in there.
Jennifer – You on your worst night are better than people on their best night. You have no problems up there.
Harry: My real concern… is you don't hurt yourself tonight and you have all of that in the right place…
Alex Preston – POMPEII by Bastille.
Jennifer – We've been telling you to create moments and make it different, and when you picked up and did percussion you had me and then you went over to the crowd.
Harry – I would say that I could see the wheels turning which is something I wouldn't have wanted to see. You should do the song on the road and when you get comfortable going back and forth, it'll be better.
Keith – I agree with Harry, you had so much going on and you were trying to remember so many thing you gotta go from the guitar, to the drum, to the mic, to the guitar, I get it! But when you went to the drums and sang, that's when you're at the best and you're in the zone…
Jena Irene – TITANIUM David Guetta
Harry – Songs aren't all about high notes but this song every one wants to hear that high note… that's like nothing to you, it's so in your alley.
Keith – Jena, what I love about the way you perform is you have such a great balance between being a stealth singer and you can really perform. You know how to mix the fun with the conviction.
Jennifer – Listen, you hit all the high notes and that was awesome. This is one of the most difficult songs to sing, I think. In the beginning to me it felt a little shaky.
ROUND TWO: JUDGES' PICKS
Caleb Johnson – DEMONS by Imagine Dragons.
Keith – "Gosh, if you close your eyes you really wouldn't know about your voice, and you're doing such an awesome job working through it. What it does to your confidence level, it's really scary… It's the first time I noticed a Steve Perry tone in your voice.
Jennifer – It's what Keith said, it's really scary. Your voice will come back though. When you're a performer though you gotta learn to rely on other things. You started singing the emotion of the song and the lyrics of the song and you hit them effortlessly, and that's all you have to do tonight.
Harry – … I realize I don't really know what you would do when this competition is over. Just real quick, what would you do? (Caleb replied that he wanted his own record with classic rock, some old school, all originals)
Alex Preston – STAY by Rihanna
Jennifer – I knew that you would sing the heck out of that song. Oh my God, it was beautiful and it was all yours. We forgot about Rihanna…
Harry – It was beautiful, it was really really strong.
Keith – … you just owned a song. That's what I'm saying, those are the things, the audience responded, Jen got the gooseys…
Jena Irene – HEART ATTACK by Demi Lovato
Harry – You know what's so great about what you do is even where there is no room you find a way to make it your own.
Keith – It was great, you're always so bullet with your pitch and range, and the notes keep going.
Jennifer – That's what I'm talking about…. That's my Jena.
ROUND 3 – VOTERS' PICKS
Caleb Johnson – DAZED AND CONFUSED by Led Zeppelin
Keith – I just wanna throw stuff, let's throw stuff. Awesome!
Jennifer – I'm not a thrower but if I was a thrower, I would throw. That was a true Idol moment. That was bananas! That was ridiculous!
Harry – This show's all about opportunities and performers seeing the opportunity and taking advantage of the opportunity. I loved watching you take full advantage. That was absolutely fantastic.
Alex Preston – STORY OF MY LIFE by One Direction
Jennifer – You know this is so hard, it's so hard. America really has their work cut out for them. I see three people that want to be in the finale so bad.
Harry – You know your home town is really rooting for you because I don't know a soul that doesn't love that song… another classic Alex performance.
Keith – I think your average is really strong tonight.
Jena Irene – CREEP by Radiohead
Harry – There's so many different ways that you take the stage, you sang with a mic earlier and then you sat behind the piano. We heard you sing this song before and it was brilliant, and this time it was even better than before.
Keith – The only thing I disagree with is at the end you said I don't belong here and you SO belong here. The way you have gravitated towards the band, the way you perform, the way you sing, everything has grown with leaps and bounds.
Jennifer – It was brilliant. You're such a baby, you're only 17 and it's so easy for you. I feel like you're going to be so hard to beat!
Prediction
We're going with that picture of the Top 3 that shows Jena and Caleb cheek to cheek and Alex sort of separate. Sure it could be wrong but it's as good a guess as any. It doesn't really matter to us which guy is eliminated first as long as neither of them win. If anyone has a more rational prediction, feel free.