Alex Trebek is a Real Trouper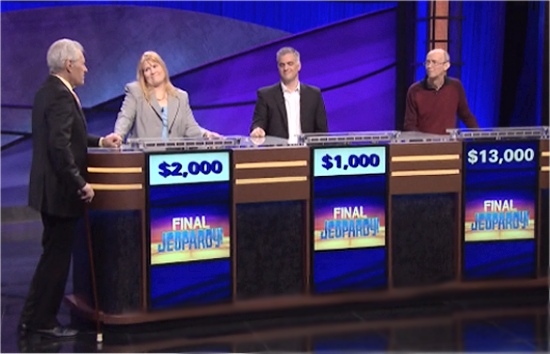 As many have noticed for the past couple of weeks, Alex Trebek has been using a cane and has not been standing in front of the players during the interview segments or walking up to shake the winner's hand first at the end of the game. Trebek announced on the December 21, 2015 match that he just had a full knee replacement but he didn't make a big deal out of it, even joking about it. He then carried on to the best of his ability like the true professional that he is.
It's not the first time that the Jeopardy! host went to work despite an injury. He has had two mild heart attacks, one in 2007 and one in 2012. In 2011, he injured his foot after waking up in his hotel room to find a burglar in the room. He had to use crutches but that did not prevent him from appearing at the National Geographic World Championship or resuming his hosting duties on Jeopardy!
This past year, Trebek also had a bronchial infection that made his voice hoarse. When he recovered, he re-recorded the game portions of the episodes it affected.
Alex Trebek is also a good sport. He is often asked how he feels about Will Ferrell's Trebek impression of him. Earlier this year, in an Ottawa Citizen article, it was mentioned that he enjoys the Ferrell impersonation, but his favorite is Eugene Levy's Hi-Q parody
After the SONY hacks at the end of 2014, there was a lot of speculation that Trebek was going to retire but that soon ended in May of 2015 when it was announced that he had signed on for two more seasons, so barring any unforeseen calamities, we will be hearing this familiar intro for many more Jeopardy! matches and tournaments:
And now, ladies and gentlemen, here is the host of Jeopardy! ALEX TREBEK!