Twitterers Pay Homage to Betty Ford
Former First Lady, Betty Ford, has passed away at the age of 93. The widow of the late Gerald Ford, 38th President of the USA, she was the also the co-founder of the Betty Ford treatment center in California.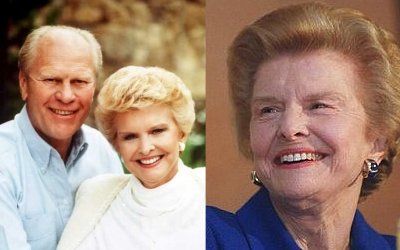 According to a family member, Elaine Didier, the spunky First Lady who spoke frankly about her own battle with alcoholism and an addiction to painkillers, passed away with her family at her bedside on Friday evening.
Condolences immediately came from the current and former Presidents:
President Barack Obama said: "As our nation's First Lady, she was a powerful advocate for women's health and women's rights. After leaving the White House, Mrs. Ford helped reduce the social stigma surrounding addiction and inspired thousands to seek much-needed treatment."
Former President, George W. Bush said he and his wife, Laura, were deeply saddened by the news. He said that Mrs. Ford made countless contributions to the country and was courageous in calling attention to breast cancer and substance abuse, and added that "because of her leadership, many lives were saved.
His father, former President George H.W. Bush, said: "She was a wonderful wife and mother, a great friend and a courageous First Lady. No one confronted life's struggles with more fortitude or honesty, and as a result, we all learned from the challenges she faced."
Jimmy Carter said Mrs. Ford was "a close personal friend" and "a remarkable political spouse," and former First lady Nancy Reagan called her "an inspiration.
Messages and quotes are pouring in on Twitter under the hashtag #bettyford:
@tamadou
– Best book on 
#bettyford
center ever – Time Is All We Have. I will read again in honor of you, Betty.
doctor_greg
: "The search for human freedom can never be complete without freedom for women." RIP Betty Ford. 
#bettyford