Supporting Cast of Friendless Child – Boardwalk Empire
Here are some of the actors who appeared in "Friendless Child", Episode 7 of Season 5 of Boardwalk Empire (10/19/2014).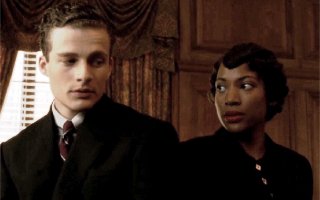 Natalie Paul plays Beatrice Carson who now works with Will Thompson (Ben Rosenfeld) in the office of Robert Hodge (Reg Rogers), who announced in his radio broadcast that he is the United States Attorney for the Southern District. So far, to the best of our knowledge, the name of Natalie's character has not been spoken by anyone, but that's who she says she is playing on her website. If you found it unbelievable that there would be a black lady working in the District Attorney's office, this character is actually based upon the real life Eunice Carter. She became the first black female assistant district attorney in the state of New York in 1935. Her work in that position eventually led to Lucky Luciano getting 10 years and being deported.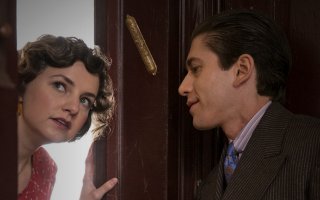 And here is Talia who commits adultery with Benny Siegel (Michael Zegen). On the way out, he runs into her husband and old friend, Morris, and is about to give Morris his autograph when Arquimedes (Paul Calderon) and crew break up the reunion, forcing Benny to use Morris as a human shield. Talia's sympathy for her injured husband was underwhelming. We're just guessing that Talia was played by Leighton Bryan and Morris by Adam Scarimbolo.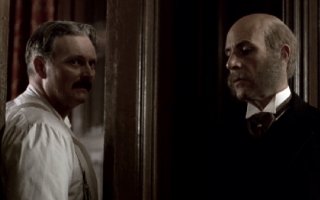 From the flashback segments, here we have the dastardly duo, Commodore Kaestner and Leander Whitlock. We know that it has been the fashion to hate on Nucky for taking Gillian to the Commodore ever since her tragedy came to light. In this segment, however, we see that both Sheriff Lindsay and Leander Whitlock were a part of the Commodore's perversion before Nucky even came into the picture. That makes Leander Whitlock's statement that he owed the Commodore something when Gillian was arrested in Season 4 seem reprehensible!
Back to the present, here is the text of Gillian's "Nellie Bly" letter:
"Dear Sheriff Enoch, You came to my aid once, a very long time ago. I write in the very last hope that you can find it in your heart to think of me once again. As a child, and for most of my life thereafter, I only did what I had to do to survive, making a devil's bargain and, in the process, giving birth to a child fathered by a man I did not love.
With no hope of reprieve and everything in this world taken from me, for the past seven years I've been held captive. I feel as if I'm in hell, which is a pain worse than death. Taken away one piece at a time. You are the only one left who knows me. Please tell them who I was before. You promised not to return me to a place determined to crush my soul. Show me the same kindness now that you once showed an orphan girl under the boardwalk. I know in your way you thought you could save me. Would it have been better for both of us if you had not? We were innocent once.
Every moment here is a torture I cannot describe. (As a girl and for most of my life thereafter, I did what I had to do to survive.) I do not look for absolution but only relief. (I gave birth to a son fathered by a man I did not love. Everything in this world has been taken from me, with no hope of reprieve.) I go back over what I have just written. I look at the words and think they make sense. And with each passing day I am less and less certain. Bit by bit, they take you away until you are… I tell myself I am sane… and finally nothing at all.
If you would come, if you would sit beside me… You are the only one left who knows me. Show me the same kindness now that you once showed an orphan girl. There is forgiveness for everyone. I turn to you on my knees. I beg you. Please help me."
Other notes:
In the opening, Robert Hodge mentions historical figures Governor (Franklin D.) Roosevelt, who held that office from 1929 until 1932; and New York City Police Commissioner (Edward P.) Mulrooney, who held that office from 1930 until 1933.
As Arquimedes drags him out, and Morris says he is dying, Benny Siegel says "abi gezunt" (as long as we have our health). Other Yiddish used by Benny: schnorrer – parasite, moocher; momzers – bastards.
Kidnapped Willie Thompson reels off their aliases to his captors: Salvatore Lucania, Charlie Luciano, occasionally Charles Lane or Charles Reid; and Meyer Suchowlansky, sometimes known as Michael Lewis. He mistakes Pinky Rabinowitz for Benjamin Siegelbaum (shortened to Benny Siegel).
Also in the cast of "Friendless Child"
Greg Antonacci – Johnny Torrio
Giampiero Judica – Salvatore Maranzano
Travis Tope – Joe Harper
Nicholas E. Calhoun – Sean
Ethan Herschenfeld – Pinky Rabinowitz
Louis Cancelmi – Mike D'Angelo
Michael Countryman – Frank Wilson
Jason Boyle – Danny
Bernard Bygott – Agent #1
Susan Kirby – Sanitarium Patient
Alexander Stine – Phelps
Leighton Bryan – Talia
Flashback Cast:
Marc Pickering – Deputy Sheriff Nucky Thompson
John Ellison Conlee – Commodore Louis Kaestner
Jordan Lage – Leander Whitlock
Boris McGiver – Sheriff Lindsay
Madeleine Rose Yen – Young Gillian
Maya Kazan – Mabel Thompson
This is the judge who signed the warrant for Al Capone's arrest for income tax evasion (just when we thought the Chicago angle of Boardwalk Empire was over). Can't figure out who played him.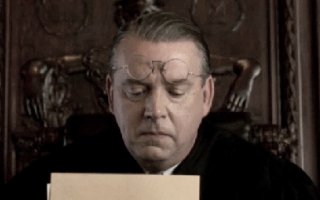 More roles not identified so far:
Emma Berg
Wilbur Edwin Henry
Peter Hourihan
Ben Jeffrey
Adam Scarimbolo – Morris (?)