A Different Road: Olive Kitteridge
"A Different Road" is the third installment in the HBO 4-part miniseries "Olive Kitteridge". Christopher Kitteridge (John Gallagher, Jr.) and his wife, Suzanne, are now getting a divorce. He calls up to tell his mother Olive (Frances McDormand) and his father Henry (Richard Jenkins). Henry is disappointed yet supportive.
Olive is cold and practical, but at the same time, looking for the one to blame. She's pretty sure it's Suzanne. "He married an opportunist." She makes immediate plans to sell Christopher's property next door that they have been renting.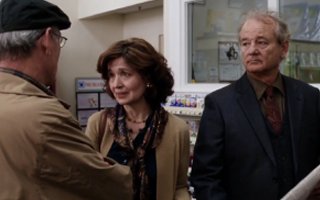 On a trip to town, most people know and like Henry, but at the Aid-Rite (the chain that bought his pharmacy out), he runs into Jack and Linda Kennison (Bill Murray and Maryann Urbano). Mrs. Kennison only remembers Henry when he tells her who he is. He also speaks to a clerk stocking the card rack, noticing it's near Father's Day. She is not too enthusiastic about sending a card to her father. Impulsively, Henry buys Olive a "just because I love you" card and flowers. Olive accepts and thanks Henry for the gifts. He says "I love you, Ollie." She replies "Yeah, you do, Henry," and returns to her gardening.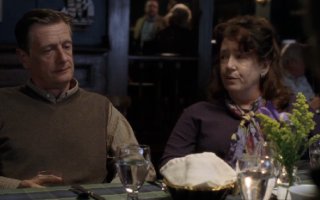 At dinner with Harmon (Ken Cheeseman) and Bonnie Newton (Ann Dowd), they talk about Christopher's divorce and the Newtons' fresh grandchildren. Their daughter Julie encourages the kids and is rude herself. The Newtons conclude that "you can't win, even when you do your best." Olive says "to hell with all of them." On the way home, Olive and Henry talk about the lack of manners and a possible trip just for the two of them while Olive has a case of indigestion that goes from bad to worse so quickly that she tells Henry to take her to the Emergency Room. After a visit to the restroom, she tells the desk nurse, Patricia (Amanda Collins), that she feels fine. But Patricia convinces her it would be best to let the doctor examine her. Another woman recently ate crab and died of anaphylactic shock.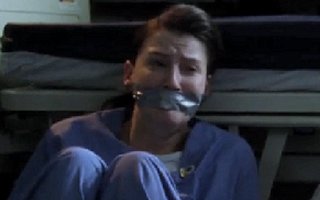 Olive waits for the doctor while Henry chats up the young nurse. Two hoodlums wearing a pig mask and a ski mask rush in and hold Henry, the nurse, Olive and the doctor hostage. Pig Mask goes looking for whatever it is they want to steal, leaving Ski Mask with the hostages. He takes off his mask but warns them not to look at him and tells them to shut up. They not only don't listen but argue with each other after Henry tries to comfort the crying nurse and Olive realizes he knows her first name. "He'd risk his life to save a mouse in distress," she sneers. Olive tells Patricia to shut up when she starts to pray Hail Marys. Olive blames Christopher's leaving on Henry and under the stress, Henry lashes out and says it was her hatefulness. He asks why she didn't leave him and Olive says she almost did. Henry busts out laughing while Ski Mask is trying to get the duct tape roll started so he can tape their mouths shut. Henry says Olive wouldn't have lasted two weeks with Jim O'Casey. "His drinking would have disgusted you." Olive laughs despite herself and says that Henry wouldn't have lasted two weeks with his real little mouse, Denise. "Half your age and dumb as a rock." Right after Ski Mask tapes Patricia's mouth, the police burst in and take him down. A male nurse arriving for his shift saw something amiss and called the police.
Later, Olive tries to explain her behavior away and Henry marvels that in all their years of marriage, she has never once apologized. "I'm sorry I'm such a hell of a rotten wife," Olive says. Henry comforts her and says they will get over it in time. Eight months later, we can see that Olive has not changed a bit when Henry returns from town. She hits Clancy, the dog, for running toward the car. She admonishes Henry about carrying the mulch himself instead of using a wheelbarrow. While doing so, Henry suffers a stroke and Olive has to put him in a nursing home. Christopher comes to visit and is appalled at how his mother is behaving.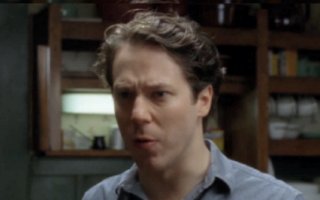 At home, over lunch, he tries to tell Olive that Henry can no longer see. She refuses to believe it. "You're not a doctor, you don't know," she says. "Excuse me?" Christopher replies. Being a podiatrist doesn't count according to Olive. This escalates into a huge argument over Christopher being a bad son vs. Olive being a bad mother. Chris demands that Olive admit just once that she says all these horrible things and Olive begins to cry, claiming she was almost murdered and just lost her dearest friend and needs someone to be nice to her. Chris capitulates. After he returns to California, Olive brings Clancy to the nursing home and tells Henry that all Chris talked about was what a wonderful father he was. Henry tries to talk but it is nothing more than unintelligible grunts.
At the post office, a lady named Cynthia offers her sympathy to Olive and offers help by way of her daughter, Andrea, who is now a social worker. Olive rudely declines by saying that she remembers Andrea from her class: "not too bright with the math. Glad she found a calling." Cynthia remains polite and leaves. In her mail, Olive finds a card from Louise Larkin (Donna Mitchell), and recalls the detention when she would not let Doyle leave early despite Louise claiming he had a doctor's appointment. Doyle is now in jail for murdering a woman, as Olive previously told Kevin Coulson.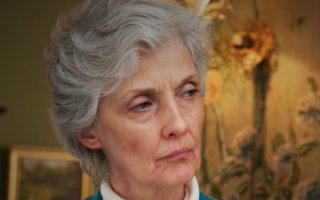 Olive goes to the Larkin home for tea where Louise informs her that one of the young men who tried to rob her is staying at the same facility as Doyle. She suggests that if Olive ever visits the robber, she might also visit Doyle, who is the "sweetest soul alive", even if no one believes it now. Olive then goes to see Henry and lies down next to him, telling him how Louise Larkin is completely out of her mind and not just crazy, but "wicked crazy." The only person she had anything nice to say about, she confides, was Henry. She called him "the kindest man in the world" and Olive confirms the truth of that. "You were born kind, you grew up kind and then you married a beast and loved her." She says he has had a good life and he can die now and she'll be right there. "You won't be alone. Love you, Henry." She drifts off to sleep, snatches of her conversation with Louise Larkin play in her mind, intermingled with the accusations made by Henry in the hospital and by Christopher after their lunch. Louise really was wicked crazy.
Olive is awakened by an aide who has to change Henry. She leaves to go home and feed Clancy and runs into Angela (Martha Wainwright), who has been playing piano and singing at the nursing home. She's smoking a cigarette and says "you caught me" to Olive, remembering all the times Olive told her to quit. "Well, who am I to tell people what's best for them," Olive replies and gets in her car. "Who the hell do I think I am? she asks herself.
Also in A Different Road:
Mrs. Manhattan – Serahrose Roth
Manhattan Child – Sean Vincent
Mr. Manhattan – Patrick French
Aid Rite Passerby Jojo Whilden
Stan the Man – Calder Melvoin
Stock Girl – Katie Elinoff
Waitress: Amanda Good Hennessey
Dr. Ted – Patrick Carrol
Pig Mask – Rhet Kidd
Ski Mask – Paul Richard Yarborough
Cop – John Vincdent Mason
Cop – Christon John Gombos
Mary Blackwell – Dee Nelson
Cynthia Bibber – Adrianne Krstansky
Morning Aide – Celeste Oliva
Pharmacy * Incoming Tide * A Different Road * Security