Jessica Meuse Eliminated as American Idol 13 Top 3 Are Revealed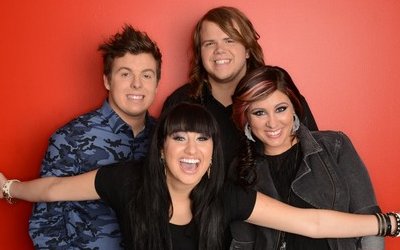 Jessica Meuse said she wanted to go back to Slapout a hero "not a zero" in an intro clip. Then during a clip showing the Top 4 breaking bread and discussing last night's show, Alex Preston acknowledged that it sucks that one of them won't get a hometown visit but they should all be proud to have made it this far. He didn't think that the judges have any idea who's going home. We think they totally know!
After faking us out that the first of the Top 3 would be revealed, it was delayed even more by bringing out a platter of beignets for Harry Connick, Jr. He started throwing them into the audience and then we were treated to the Randy Jackson analysis, telling us stuff we already knew because we heard it from the judges last night. Big props to Jena and Caleb; credit to Alex and Jessica for killing their third songs.
Jena Irene was then revealed to be the first of the Top 3. Caleb Johnson was the second. So there was no shock-a-rooni there, despite predictions that Caleb would suffer from some unguarded remarks in an interview last week; and Jena might suffer the wrath of some fans for being one of those to vote no in the last week's failed "game-changer". Alex was the third to get a homecoming visit. He was confirmed to be the other "no" vote from last week, so no backlash there either.
Watching her Idol journey brought Jess to tears but she gamely took the mike for her last performance. With nothing left to lose, she cut loose singing her own song "Blue Eyed Lie."
Well, Jessica made it a lot further in the competition than we ever thought she would and, best of all, she finished ahead of Sam Woolf, because that would have really sucked worse than this!
Now it is going to be a question of who the voters like more: Cocky Caleb or the more mellow Alex, because we still think JENA IS IN IT TO WIN IT!