Final Jeopardy: 11-9-15 to 11-13-15
Here are the Final Jeopardy questions and answers for the week of November 9 through November 13, 2015.
Mon, Nov 9 – Correct answers: 1
He was the first to have both fiction and nonfiction number one New York Times Best Sellers; the latter featured his beloved poodle. show
Tue, Nov 10 – Correct answers: 1
His first address spoke of "the present happy state", "our peculiar felicity" and our "happy government". show
Wed, Nov 11 – Correct answers: 0
Its meaning as an individual product dates to 1977; its meaning as conforming to orthodox opinion dates to 1986. show
Thurs, Nov 12 – Correct answers: 3
The woman seen here, who was born in North Carolina and died in England in 1881, was the subject of this painting. show
Fri, Nov 13 – Correct answers: 0
Famous mother of Pyrrha, who survived the great flood and with her husband repopulated the earth. show
There were mixed feelings about this week's final questions during the first week of the 2015 TOC that left some of us fuming. Some thought that Wednesday's clue was poorly worded and that the category was inaccurate. Thursday's too-easy clue was just a jaw-dropper. How could they use that for a TOC final? There were a couple of other very easy picture clues (Reagan, Stalin) but at least they weren't DDs or FJs.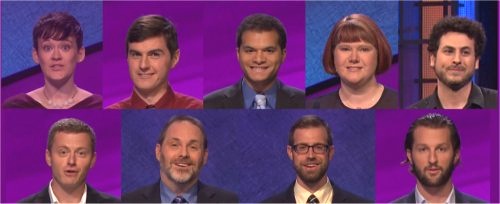 In order of winnings, here is a repeat of the semi-finalist and wild card list of winners from Friday's recap. We believe it means that Alex, Matt and Kerry will be in separate semi-final matches.
SEMI FINALISTS
$26,657 Alex Jacob
$24,898 Matt Jackson
$22,000 Kerry Greene
$18,000 Brennan Bushee
$17,600 Catherine Hardee
WILD CARDS
$19,400 Andrew Haringer
$16,599 Vaughn Winchell
$15,000 John Schultz
$14,000 Dan Feitel
What's wild about those wild cards is that Vaughn and Dan were both in Monday's game so we were already seeing half the wild card list when Catherine Hardee won that match. She was not the one who got FJ right though — that was Dan.
Check out Jeopardy's youtube channel for post-game chats. If they published one for Tuesday's game, we didn't see it.