American Idol Top 4 Performances and Predictions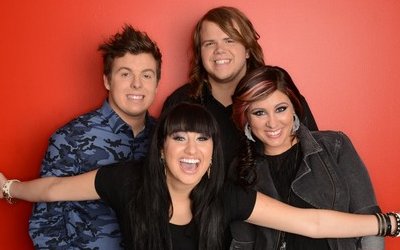 It was Caleb Johnson's night for most of the show, no doubt about it. One kick-ass performance after another, but just when you were feeling sorry for the other contestants after Caleb sang "Maybe I'm Amazed", Jena Irene STOLE the entire show with a ridiculously incredible performance of "Can't Help Falling in Love with You." It was so good that Jennifer Lopez felt moved to run up on the stage and kiss her!
Each of the Top 4 sang 3 songs tonight and you couldn't help but feel they were giving Jessica the business. Really, her songs were fine but it seemed like she couldn't do a damn thing right. They weren't quite as hard on Alex, and they threw them both good reviews on their third songs. We're not going to write down the judges' comments on each song — just our own personal opinions this time. Seriously, at this point we would give Harry Connick, Jr. the finger and say "deconstruct this, dude." Now, here's what they sang:
Caleb Johnson – He sang Bon Jovi's "You Give Love A Bad Name," "Travelin Band" by CCR, and "Maybe I'm Amazed" by Paul McCartney. Caleb got good feedback on all three, but the last was the best and as Harry Connick, Jr. put it "absolutely phenomenal." Keith Urban applauded Harry's A+ critique because, he said, he agreed. Probably more because they are so rare! J-Lo said it was his best performance "since the beginning." Just as well that she didn't say "of the night" because that was still to come.
Jessica Meuse – She sang Kelly Clarkson's "Since You've Been Gone," "So What" by Pink and "You And I" by Lady Gaga. Jess was told the first two songs didn't suit her, "no reflection" on her talent. How's that for a backhanded compliment? She was at least praised for the last one. We liked her "Since You've Been Gone" the best.
Jena Irene – She performed "Heartbreaker" by Pat Benatar, "Bad Romance" by Lady Gaga and "Can't Help Falling In Love With You" by Elvis. Jena got mostly good feedback on all 3, though she caught a little bit of that "break loose more" blah-di-blah on the first one. The last was, as we have already said, the real deal. It was by far the best performance of the night. Truth be told, we didn't care much for the Bad Romance number and when her last choice was announced, we were like, huh? Why??? But, man, that is the best rendition of that song we've ever heard.
Alex Preston – He did "Too Close" by Alex Clare, "I'm Yours" by Jason Mraz and Coldplay's "Yellow." and his feedback was somewhat similar to Jessica's. Nitpicking about silly stuff, then good marks for his last performance. We're not big fans of Alex' singing style, but the guy has a great voice and the audience certainly was a lot more enthusiastic for both him and Jessica than the judges were.
Our picks for this night are: No. 1: Jena. No. 2: Caleb. No. 3: Jessica and No. 4: Alex. But we predict that the voters will keep Alex and send Jessica home.
Of course, with J-Lo telling Alex at one point that she is worried about how he is going to beat a Caleb or a Jena, we don't need to tell you that Jena and Caleb are the two frontrunners here, no matter how "integral" J-Lo claims to think Alex is to the competition. From American Idol's point of view, we think they would find Jena more marketable than Caleb. She's as good a performer as he is, she's a teen, she's stylish as all get-out, and all these things may get her extra points with the voters when it comes down to the nitty gritty.