Wheel of Fugitives
No, it's not a joke! The Brevard County Sheriff's Department in Florida really has a weekly spot on the local news at 8 pm, where Sheriff Wayne Ivey appears with a wheel that has photos of fugitives from justice on it instead of prizes. He gives the wheel a spin and asks the public to help them locate the person it lands on. Sheriff Ivey also asks the errant individual to save everyone a lot of trouble and just turn him or herself in.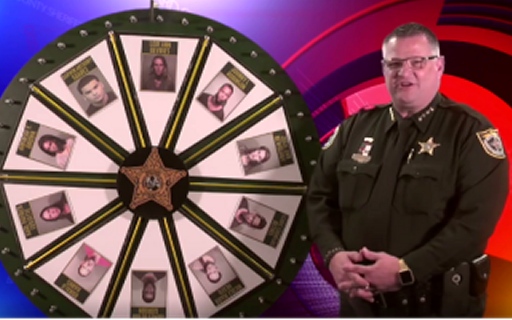 A video of the segment gets posted on the Facebook page of the Sheriff's Department.
FloridaToday.com reports that they've been doing this for about 18 months now. They talked to Sheriff Ivey who said this approach has worked out both ways: tips from the public have led to the arrest of some fugitives and others have turned themselves in.
Before the Sheriff's Department hit on this idea, they had a segment they called "Turn Them in Tuesday." They would focus on one fugitive per week in it. With an 88% success rate, it was by no means a flop, but Ivey feels that the Wheel of Fugitives has the potential to be even more successful because it gives them the opportunity to show images of about 10 fugitives before singling one out.
Read more about it and how the segment caught the attention of Comedy Central's "Daily Show" on FloridaToday.com