The Erlkonig Supporting Cast: Boardwalk Empire

Here are some actors who were in the supporting cast of the fifth episode (Erlkonig) of Boardwalk Empire, Season 4
Up to now in this season, Morgan Spector has been playing Frank, one of the two Capone brothers brought out to Chicago by Al Capone. Spector had to know his role was short-lived since the real Frank Capone was shot in an election day melee in Cicero on April 1, 1924. The good news: Spector made a lot of fans with his portrayal of Frank.
Get the lowdown on the real Frank Capone here.
Ralph, the other Capone boy being portrayed in Boardwalk Empire by Domenick Lombardozzi, lived a much longer life than Frank or Al.
Interesting fact: Did you know that the oldest Capone brother, James Vincenzo, was a lieutenant in WWI and a prohibition agent in Homer, Nebraska for a while, having legally changed his named to Richard James Hart. When reporters learned his birth name, he and his family had to split town. He continued to work in law enforcement and eventually became a justice of the peace. He also outlived Al Capone.
Anthony Laciura made his last appearance as Eddie Kessler, Nucky's valet and newly promoted chargé d'affaires. After Agent Knox (Brian Geraghty) worked Eddie over, he could not live with the prospect of having to continue to betray Nucky Thompson (Steve Buscemi).
Brian Geraghty must know that a lot of Boardwalk Empire fans are hoping his character Agent Knox meets a bloody demise before the season is over. People didn't mind him taking out Agent Sawicki much at all, but punching Eddie, a beloved character, in the gut, tormenting him about his sons back in Germany and forcing him to betray Nucky? Ach, du Scheiße!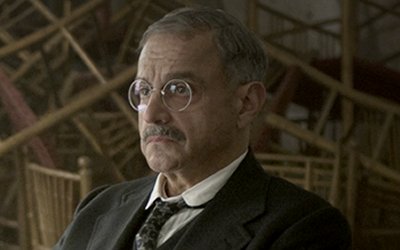 Also appearing in this episode:
Wrenn Schmidt: Julia Sagorski
Roy Phillips: Ron Livingston
Sigrid Mueller: Christiane Seidel
Ralph "Bottles" Capone: Domenick Lombardozzi
Tommy Darmody: Brady & Connor Noon
Clayton: Owen Campbell
Doris: Kayla Ferguson
Joe (Nucky's bodyguard): David Campbell
Agent Selby: Jacob A. Ware
Judge Varick: Robert Emmet Lunney
Ian Blackman: Philadelphia D.A. Lawrence Eisley
If we ever find out who they played, we'll let you know:
Marc Basil
Martino Caputo
Tom Coiner (the Asst. D.A. in Philly?)
James Collura, Jr.
Gregory Dann
George Demas
Bryan T. Donovan
Richard Eggstein
Christopher Jon Gombos
Katie Hartke
Scott Lehman
Vincent LoRusso
Charlie Romanelli
Vincent Rossi
Trampas Thompson