Secret Life: I Do and I Don't Recap
What a tangled web Ricky and Amy weaved in the June 25th episode of "Secret Life." Ben and Dylan showed up at school with a huge wedding cake, courtesy of Dylan's mother, who owns a bakery.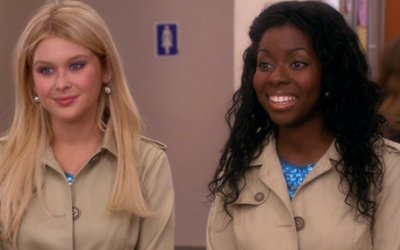 Every kid who walks into school got a "Ricky on a stick" and Madison and Lauren went all "Glee" with Ethan playing keyboard and the kids dancing in a full production of "Marry You" (Bruno Mars). That really seemed long with Amy standing there giggling intermittently, whenever she thought they were done. When they finally were done, she kept trying to tell everyone it's not that big of a deal.
At the butcher shop, meantime, Ricky is given full insurance for himself, his wife and child through Boykewich International and Leo personally delivers the papers along with an envelope stuffed with A LOT of cash. Leo truly is a sausage king of a guy.
Ricky's foster mother, Margaret, gives him her parents' wedding bands. Ricky tries to refuse but he senses how much it will mean to Margaret and pretty much has to accept.
Ann is visiting with her mom, Mimsy, who goes in and out with her Alzheimers. She apparently forgets she isn't supposed to tell Ann she was pregnant herself when she got married. Ann wants to apologize that she didn't include Mimsy in her wedding. "Oh, that's okay. You were at mine though," Mimsy blurts out, but Ann is too wrapped up in her own confessions to notice, and she tells her mom she's gay. But she's wasting her breath. Mimsy relates that to Gay Paree.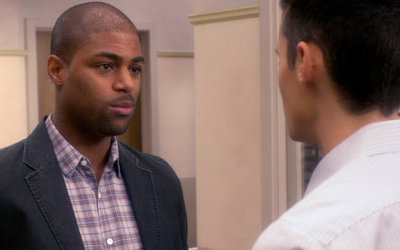 Guidance counselor Caitlyn hooks Amy up as a mentor to a pregnant teen and wants to hook up Ben. He's more than not interested. He's really having such a bad day that when he runs into Omar in the hall and learns Omar is teaching, he accuses him of having a thing for young girls and calls him a pervert. Omar says Ben's stepped over the line and wants to report the remark to the authorities. He wants it on record that he's been falsely accused. Alarmed at the mention of the authorities because of the Bunsen Burner caper, Ben apologizes profusely but it's too late.
Dylan's friend Wendy, now going to Grant High since her own school burned down, is spying on Ben and hooks up with Mercedes to tell her what a basket case Ben is. They figure out something is up that Raven must know. Lauren and Madison walk by and give them dirty looks. These rich girls make them feel so poor. Lauren begins to quote positive reinforcement lines from The Help to make them feel better … you is kind, you is smart …
Speaking of inappropriate, at Grace's house, George and Kathleen can't keep their lips off each other, even while Grace is saying grace before the meal! We also learn that Jacob has gone back to Africa to see his mother. Wow, that was quick.
Over some beans and weenies with Nora, Toby relates how they used to pretend they were cowboys on the range at his house and whoever got the pork fat got to wear the cowboy hat. Ashley is so grossed out she spills the beans about cooking school in Italy. Toby can't believe she thinks he will just pick up and go to Italy with her and accuses her of sleeping with him to make him follow her all over the world, but when he finds a second piece of pork fat in the beans, he considers that lucky.
As Amy and Ricky settle in at the end of the day, they prepare to watch a video of their wedding on the computer and it turns out they are not married at all. The man who performs ceremonies at the chapel was such a nut, Ricky threw some money at him and they bolted out the door without a single "I do" being said.
This might not have been so unbelievable, if not for the way it was revealed. Who in the world buys a DVD of themselves NOT getting married? OK, we suppose the rationale is it got sent to them because of the money Ricky threw at the guy. Yeah, sure.
Whatever, there's going to be a lot of pissed off gift givers if they don't sneak off and say them vows somewhere.