James Durbin Totally Looks Like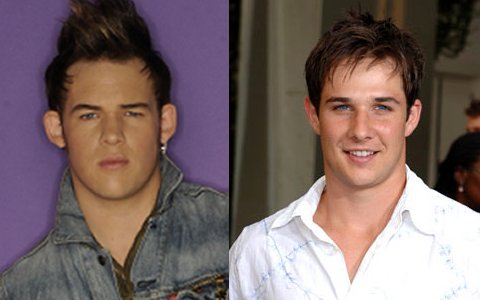 We enlisted one former American Idol fan to give her opinion on James Durbin in the Hulk Hogan segment of last week's results show. This 17-year-old doesn't watch Idol much anymore, but we had it on our DVR so we wanted to know if she thought James was as cute as we do.
She said he totally looks like Ryan Merriman, currently starring as bad boy, Ian Thomas, on "Pretty Little Liars."
Okay, we're exaggerating just a wee bit. She really said he looks "a lot" like Ryan Merriman, but she clearly meant that in a good way, adding "I used to have such a crush on Ryan Merriman when I was younger."
Another person we asked was not as kind: "You like James and those ears? He looks like he's going to fly away."
Yes, we like James and "those ears." We think he's hotter than Ryan Merriman too.
Ellen DeGeneres also likes James Durbin. She named him as one of her picks for the Top Three Idols in Season 10. She also chose Pia Toscano and Stefano Langone. Matt Carter on Examiner.com disagrees, believing that Scotty McCreery's Alfred E. Neumann looking ass has a better chance than Stefano, who has almost been eliminated twice already.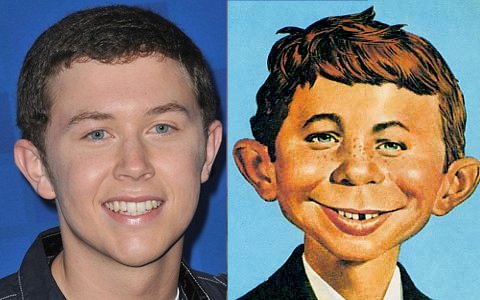 You guys are selling Lauren Alaina a little short there, don't you think? Lauren can sing country and a lot more. All Scotty's got going for him is that low voice gimmick. That will get old sooner rather than later. Even "Baby Lock Them Doors" is played out by now.
Anyhow, we don't even care who's second or third. Where's our James Durbin Winning picture?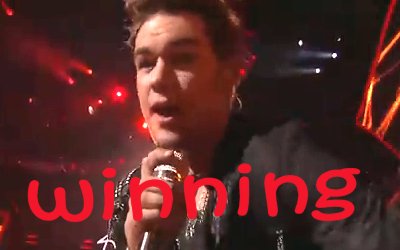 Ah, there it is!