Final Jeopardy: 1-5-15 to 1-9-15
Here are the Final Jeopardy questions and answers for the week of January 5, 2015 with links to the full recaps.
Mon, Jan 5 – Correct answers: 1
This European city hosted the northernmost summer games, also the first where Soviet athletes participated. show
Tue, Jan 6: Correct answers: 2 (out of 2 left in FJ)
Meaning "waterless place" this 500,000 sq.-mile area lies in what's called a "rain shadow" of the Himalayas. show
Wed, Jan 7 – Correct answers: 2
In the Red Star in 1976, Capt. Yuri Gavrilov coined this nickname for a U.K. politician who had made a speech against the USSR. show
Thurs, Jan 8 – Correct answers: 2
He said a 2009 exhibit was the 1st time taxpayers' money was used "to hang my pictures up rather than scrape them off." show
Fri, Jan 9 – Correct answers: 2
In 1982, 72 years after his death, he became the first person inducted into the Hall of Famous Missourians. show
This week, there was only one day that everyone got FJ right but only two players were left in it so we can't even call it a triple solve. Once, again we had but two champions the whole week, and one of them was the returning champ from last week, Elliot Yates, who continued to entertain us in the chat segments until Thursday.
Then John Schultz took over Thursday and also won on Friday, so he will be the returning champ next Monday. John is already darned close to what Elliot made in 4 games.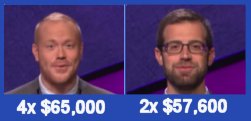 Do you think the Final Jeopardy clues are getting better or worse? Keith Williams has the statistics on that over at The Final Wager.