Supporting Cast of The Devil You Know – Boardwalk Empire
Here are some of the actors who appeared in "The Devil You Know", Episode 6 of Season 5 of Boardwalk Empire (10/12/2014).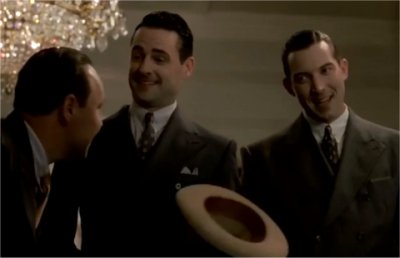 Matt Bailey appeared as George Raft and Max Von Essen played Paul Muni, the stars of "Scarface" (1932). Muni played the Al Capone-based character Tony Camonte and Raft was his henchman, Guino Rinaldo. According to the book "George Raft: The Films"
(2013), the real George Raft actually met Al Capone when "Scarface" was showing in Chicago. "By all accounts, Capone liked the film and Raft".
Another 2000 biography
says that Raft also knew Enoch Johnson. "I met him at his Silver Slipper Club in Atlantic City where I sometimes danced at special shows. I always found him to be a very nice and generous guy." Raft avoided a conflict with Nucky Johnson when he learned he was dating a girlfriend of his, one Hilda Ferguson, and he broke it off.
Here is the song "Any Little Fish" by Noel Coward. Al Capone sang the very last verse of it before introducing the two thespians in his hotel suite.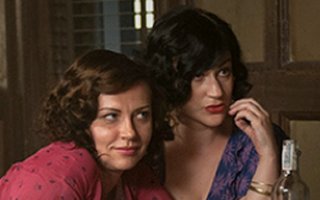 The two floozies Nucky recited "The Song of Hiawatha" for in that bucket of blood were played by Dagmara Dominczyk, as Dinah, and Ginger Kearns, as Irene. Dinah was the one who came up with the largely inaccurate characterization of Nucky except for maybe the last part "whether or not it would hurt more to stand in front of a trolley or shoot yourself in the head." Irene was the one who was almost Neptune's consort.
Other notes:
Al Capone is referred to by his crew as the Big Boy, except right after Van Alden is shot by Mike De Angelo, and Al hollers: "Get him off me, get him off me" Ralph Capone uses this nickname: "You all right, Snork?" — short for Snorky, a slang term meaning stylish.
In the midst of all the "pandemonium", Al Capone recalls a simpler time to his brother Ralph: "We was barbers… we would be asleep now!
Joe Harper tells Nucky he's just trying to get ahead, pretty much the same thing young Nucky said when the Commodore asked him why he gave back the hat with the money in it. $50 was involved in both incidents
Also in the cast of "Devil You Know" (the recap is here)
Domenick Lombardozzi – Ralph Capone
Margot Bingham – Daughter Maitland
Travis Tope – Joe Harper
Louis Cancelmi – Mike De Angelo
Paul Calderon – Arquimedes
Stephen Hill – Clarence
Bill Cwikowski – Disgruntled Bar Patron
Mike Massimino – Capone Gang Member
Saint Marino – Capone gang member
Sean Bell – Skip
Young Gillian and Young Eli in the Flashbacks
Roles not identified so far:
Lindsay Dunn
Ryan Johnson
Eric Leviton
Jennifer Miller