Final Jeopardy: Shakespeare
The Final Jeopardy question (2/23/2016) in the category "Shakespeare" was:
After a royal passing in January 1820, this tragedy that had been little performed got 2 new London productions in April.
Current champ Tim Kutz has won 4 games and $107,000 so far, an average of $26,750 per game. In his 5th game, he takes on these two players: Robin Heck, from Las Vegas, NV; and Ben Yuhas, from Evanston, IL.
Before reading off the category names, Alex Trebek again remarked upon his failure to get yesterday's Final Jeopardy! and said a cameraman came up and gave him this Keep Calm and Play Darts bag after the show.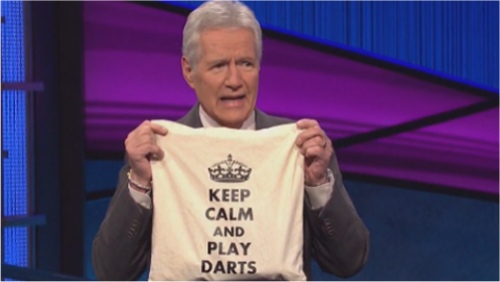 Round 1 Categories: The 1970s – Rhyme Time – 1-Word Stephen King Book Titles – Stars' Real Names – Here's Your Hat – What's Your Hurry?
Tim found the Jeopardy! round Daily Double in "1-Word Stephen King Book Titles" under the $400 clue on the 2nd pick of the round. He was the only one with any money ($200). He bet the $1,000 allowance and he was RIGHT.
The full fury of a haunted 1958 Fury. show
Tim finished in the lead with $10,200. Ben was second with $4,800 and Robin was last with $400.
Round 2 Categories: Broadway Debuts – Mythological Beasts – Brittany – Never Too Old – Celebrations & Gatherings – "FY" on You
Tim found the first Daily Double in "Never Too Old" under the $800 clue on the 7th pick of the round. In the lead with $12,600, he now had $5,800 more than Ben in second place. He bet $2,000 and thought it was Florence Nightingale. That was WRONG.
At age 76 during the Spanish-American War, she went to Cuba with her nursing corps, medical supplies & food. show
Robin found the last Daily Double in "Brittany" under the $2,000 clue. There were two whole categories left after it. She was in third place with $2,800 now, $15,000 less than Tim's lead. She bet $500 and she was RIGHT.
The village of Fouesnant celebrates this beverage in its annual Fete des Pommiers. show
Tim finished in the lead with $22,600 but no runaway again. Ben broke Tim's lock on the penultimate clue, when he had $10,000 and correctly answered the $1,600 clue in "Broadway Debuts." Then Ben got the $2,000 clue right, too, so he finished with $13,600. Robin was in third place with $3,700.
Only ONE of the contestants got Final Jeopardy! right.
WHAT IS "KING LEAR"?
This is a much-loved scene from the 1994 film "The Madness of King George," with the King acting out a bit from King Lear. In real life, George III didn't even like the play.
"If you know the plot of either The Tragedy of King Lear or The History of King Lear, you may have already surmised why the play was seldom performed in England after 1788 and banned outright during the Regency…. King Lear, the title character in the play, is an aging British king who gradually descends into the depths of madness as the play progresses. Even in Tate's "happy" version of the play, King Lear is quite mad for some time before he eventually regains his senses. George III, King of England from 1760 to 1820, frequently expressed his dislike for this play. In 1788, George III had his first prolonged bout with madness. Had Lear been the king of some far off, foreign land, the play might have continued to be performed. But the parallels in this case were just too close for anyone's comfort." (Shakespeare's King Lear Banned in the Regency)
Robin wrote down Henry VIII. She lost her $500 bet and finished with $3,200.
Ben got it right. His $9,600 bet brought him up to $23,200.
Tim wrote down MacBeth. That cost him $5,000 and the win. so he ended up in second place with $17,600. Congrats to the new champ, Ben.

This last triple stumper was in the category "Celebrations": ($1600) On December 12 Mexicans celebrate en masse this feast dedicated to the Virgin Mary.
2 years ago: ALL of the players got this FJ in "Business"
"The Everything Store" is a book about this company that in 2012 was home to 1% of all North American internet traffic. show