Dallas (TNT): Victims of Love Recap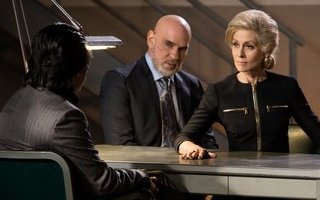 "Victims of Love" (9/8/2014) was the title of Episode 12 of Season 3 of TNT's "Dallas", but don't ask us who the victims of love were. More machinations by Nicolas Trevino came to light as the Ewings learned his real identity, and Cliff Barnes felt the weight of revenge at the hands of his own daughter, and there were a few victims of the cartel. As Tina Turner might say, what's love got to do with?
Cliff Barnes learned that Elena gave his pardon to his daughter Pamela and we learn that he has to call Nicolas to talk to Elena because she "forgot" her phone in her hurry to leave Southfork. Nicolas really has the phone and is intercepting her messages, most notably from big mouth Christopher Ewing, leaving detailed messages about everything that Nicolas doesn't want her to know. Someone is taking photos of Nicolas and Elena together, though we don't know who would care if they are getting it on besides his wife, nor do we know why she would care. We didn't know she had any power.
Christopher tries to get the lowdown on Nicolas from Carmen who refuses to listen to his tales of treachery and kicks him out. Bobby makes out better with Carlos del Sol, who reveals that Joaquin grew up with the Ramos family but changed his name because he had a criminal record. Then he lost a ton of money that belonged to the Mendez-Ochoa cartel. It doesn't even take 10 seconds for Christopher to figure out Nicolas' evil plan now and he spills it to Elena in a voicemail that Nicolas listen to and deletes.
Pamela consults the oracle known as Sue Ellen for her opinion on Cliff's situation. Do the scales of justice balance since Cliff is a murderer. He's just not in jail for the right murders. Sue Ellen thinks she should talk to Cliff since he's still alive, bemoaning her lost opportunity to talk to J.R. about that dumb master plan.
As the Ewing Global IPO approaches, the bribe Bobby promised that John Ross would make to his friend Calvin (in Like a Bad Penny) materializes in the form of a $10 million offer to make sure the shares go to Sheik Sherif Ali. Calvin lets John Ross thinks he's on board but Calvin and the Ewings are all in for a shock. Calvin gets canned and Hunter McKay gets majority control of the company. Pamela saves everyone the trouble of figuring out how that could have happened by instantly recalling the deal John Ross made with Hunter McKay and slapping him in the face for being greedy and stupid. The sheik's son also lets John Ross know he's a royal f*ck-up via text message. Nicolas continues to play innocent while secretly making sure that Hunter knows he is still just going to be running a front for the cartel.
Harris tries damage control after the foolhardy deal Emma made with the cartel but he strikes out with the CIA. They don't give a damn about Luis. They want the head honcho El Pozolero. The Rylands will have to renegotiate on their own. Ann warns Emma not to tell her battleax grandmother Judith about Harris working with the CIA. On their way to meet with Luis, John Ross tries to blackmail the Rylands but an amused Judith offers him a job as a male escort.
John Ross and Christopher pay Hunter McKay a visit who laughs at their threats of jail and gloats over John Ross falling for the same ploy J.R. did with his grandfather back in the day. Bobby tries another tack by enlisting the help of old flame, Tracey McKay, Hunter's aunt. They find Hunter swinging from a rope. Quick study Christopher realizes the cartel is cleaning up loose ends.
Judith, Harris and Emma meet with the cartel's frontman Luis. He has had a pretty bad day learning from El Pozolero that Nicolas, not him, is the intended heir to the cartel. El Pozolero greatly admires Nicolas — he's good at math and science. Luis pointed out that Nicolas lost $600 million dollars but that's no big deal to El P. He paid it back. So Luis is in no mood for the Rylands. A deal is a deal, he says. Judith mentions that Luis has not kept his part of the deal to find her "wayward whore" Candace, the one John Ross is threatening to have testify about the Ryland brothel.
Before leaving Dallas, Luis pays the Rylands a goodbye visit. He has a present for Judith — a gift-wrapped box containing the severed hands of Candace. And he shows them a video with her granddaughter Emma and Ann Ewing being held hostage to make sure she and Harris stick to their end of the deal. It was quite a shocker! Even Judith was speechless and left reeling. Emma is the only person in the world she genuinely cares for.
There are only three more episodes left of Dallas Season 3. The next episode is "Boxed In" which will air on September 15th.
The final two episodes will be shown back-to-back on Monday, September 21st.