Alex Preston Out of American Idol Running; Jena and Caleb Make Top Two
So the cheek to cheek pose of Jena and Caleb in the Top 3 photo turned out to have the symbolism we thought it would. Yeah, we are not patting ourselves on the back too much — it wasn't that hard of a call.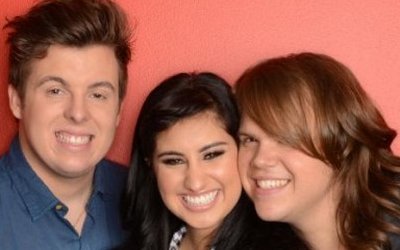 We came in on the show a little late, beginning with Jena's Hometown Visit to Farmington Hills, MI where she got the key to the city (that didn't open anything), and was as blown away to be back home as everyone was to see her. Her grandfather's tears almost made Ryan Seacrest cry! Jena stopped by her old stomping grounds, Hercules, where she worked and gamely donned an apron. There was a big parade, an outdoors concert and a private show for Farmington Hills High School's Senior Class. Jena's mind was blown even more to learn that she would be performing with Paramore in the finale next week.
After Ryan chatted up two Idol alumni in the audience, Colgate poster boy Elliott Yamin and babymaker Danny Gokey, Season 10 winner Scotty McCreery took the Idol stage to perform his new single "Feelin It." Scotty hasn't changed a bit. He still looks like Alfred E. Neumann.
Next, we went to New Hampshire for Alex Preston's hometown visit. No less a personage than the Governor, Maggie Hassan, came out to see Alex and proclaimed Saturday, May 10th, "Alex Preston Day" in New Hampshire in honor of his success on American Idol. After a visit to his high school, Alex rode down Main Street in Durham in a convertible with his parents. Alex' mom looked like she didn't know whether to burst with pride or into tears! Alex gave a concert at the Whittemore Center and presented his former music teacher with a ticket to see him perform on the "American Idol" stage in Los Angeles. Alex was amazed to find out he will be performing with Jason Mraz next week.
Then it was Caleb Johnson's turn for "barbecue and sweet tea" on his hometown visit to Ashville, North Carolina, complete with a parade, a concert and Caleb just marveling at how things have changed so swiftly for him. Caleb was seen joking with his younger brother, Houston, who joined him on stage. Do you remember when Caleb got so excited and picked up Ryan Seacrest, who looked like a Munchkin compared to Caleb. Well, his brother Houston is even bigger than Caleb, but when Seacrest informed Caleb that he would be performing with KISS in the finale, it lookedl ike Caleb tried to leap into Houston's arms and Caleb's shirt went up quite a bit!
When the time came for the elimination results to be announced, Jena was sent to safety first. Caleb was next and that left Alex to perform his "farewell" song, leaving us confused. Is he going to be performing with Jason Mraz in the finale or was that only if he got in the Top Two? Guess all the Top 10 will return for the finale. To wrap up this show, Alex sang his original song "Fairytale" while Jennifer Lopez did her bosom thrusting dancing that is really ridiculous. Por favor, Mami, we DON'T luh that!