Duck Commander Will Sponsor Independence Bowl Football Game, NASCAR Race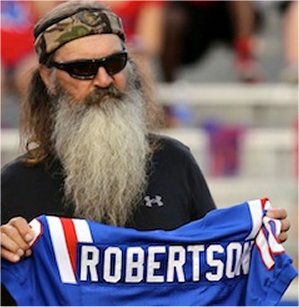 You've got to hand it to the Robertson clan in West Monroe, Louisiana. Their company, Duck Commander, makes the popular duck calls of the same name, and it's a highly successful brand. But it's not just the product, it's the marketing and these guys know how to do it. In addition to the "Duck Dynasty" show on A&E, the company is getting its name out there with high profile sports sponsorships.
Over the winter, Duck Commander secured sponsorship of the April 6th NASCAR Sprint Cup race at Texas Motor Speedway in Fort Worth. Now they've added a six year deal to sponsor the Independence Bowl in Shreveport, Louisiana, about 100 miles from Duck Commander's headquarters. The game will most likely feature a matchup between SEC and ACC teams. Company founder and family patriarch Phil Robertson was a college teammate of NFL Hall of Famer and former Pittsburgh Steeler Terry Bradshaw, when the two played at Louisiana Tech in the late 60's. Like Bradshaw, Roberson was a quarterback.
The Duck Dynasty reality show introduced Duck Commander to non duck hunters, and people who couldn't tell the difference between a Mallard and a Canvasback if their lives depended on it can be seen wearing Duck Commander gear. The show has been on the air since 2012, and it's uncertain how long it will continue, but the company is already positioning itself to remain a household name whenever the show goes off the air.