Shameless: A Long Way from Home Recap
Published on March 4, 2013 by the boss · 1 Comment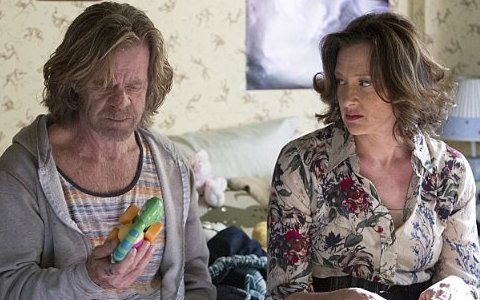 It was a long way home (3/3/2013) for some of the Gallagher kids in Season 3, Episode 7. Not Lip and Ian – they were on the loose from dawn till dusk, wandering around helping Fiona set up Aunt Ginger's death so Fiona could get the house via a forged will at the same time Fiona's was trying to get Frank out of their lives once and for all. Fiona strong armed a competent attorney into taking on her case pro bono. She forged Monica's signature on parental termination of rights papers. With Lip's help, she replaced Kev's name on his W-2 with her own but, unable to get Frank to sign away his parental rights, she still had to face off with him in court.
Before that took place, the hard time Debbie was having at her foster home was made harder when a child's father picked her up and Debbie had to take her place in Mama Kamala's basement sweat factory where she paid the kids in food for each item of jewelry they made and even charged them for toilet paper. Debbie was caught in her first attempt to escape but when the evil foster mother wasn't looking, Debbie displayed her innate Gallagher ability to spot an opportunity to get the upper hand. She grabbed her friend's medicine and spiked the foster mother's drink. Later she sneaked into the living room and removed the front door key from the sleeping woman's chest. Triumphantly opening the door, she went back for one last order of business. Revenge. She krazy glued the woman's eyelids shut and went home to chow down.
Mandy caught up with Ian and Lip on their errands and Ian inquired about Mickey. He later found Mickey on the roof practicing shooting a gun, but Mickey wouldn't talk to Ian. Hell, he wouldn't even look at him.
Carl was miserable with the disciplined regime and parental controls on the TV at his foster parents' penthouse but Lip, Ian and Mandy visited and Lip tried to cheer his little bro up, telling him to get the security codes so they can come back and steal everything after Carl got back home.
Jimmy had to make a couple of quick trips to Estefania's. The first because there was a surprise visit from the INS. The second because Este wasn't satisfied with the 10 second sexual performance of some random guy she kicked out of the house naked. She tricked Jimmy into coming over and asked him to "finish her off." Jimmy earlier evinced some unhappiness with Fiona's decision to get custody of her siblings without consulting him, but he didn't bother to consult Fiona about his own decision to help Este out.
Sheila was figuratively at the end of her rope with Jody's sex addiction — Jody was literally at the end of it. When Timmy Wong and his mother showed up and wanted Hymie, Sheila tearfully let them take the baby because she felt it was in his best interests to be out of her unhealthy home, and also to get to know his father and other grandmother, who promised to lay some Neil Diamond on Hymie every night – Song Sung Blue, Sweet Caroline and Cracklin' Rosie, get on board. Later Jody got 3 random fellows to come over for a wild orgy starring Sheila as the only female. After kicking them out, she strong-armed Frank into staging an intervention. Frank had to agree when he found out he was getting thrown out if he didn't do it but he managed to get some of Jody's milestone tokens from Sex Addicts Anonymous to show to the judge as if they were from AA.
In court, Frank fed his line of cock and bull to the judge. Debbie and Carl told the judge about the recent efforts of Frank to help them with camp and city pool survival. The judge told Fiona he knew Frank was a pathological liar but he was concerned about the enormous sacrifice she was making. She was saddling herself with her siblings until they all turn 18 and the youngest was only 2. He proposed to make Fiona their guardian while letting Frank retain his parental rights. That was right up Frank's alley — he got to keep his kids and Fiona got all the responsibility.
Lip and Mandy went to file the phony Will with the County Clerk only to find out that cousin Patrick Gallagher had already filed a forged Will with a more recent date than the 2006 forgery they were attempting to file. Evidently, cousin Patrick was tipped off by the paramedic friend who wanted a date from Fiona so bad, he didn't look too closely at the corpse that wasn't really Aunt Ginger.
While comforting Jody, who is handcuffed to the bed to help him overcome his uncontrollable urges, Sheila hears a noise downstairs and thinks it is Frank — but it's Karen, contrite and starving. Sheila is so grateful to see Karen, she feeds her and forgives her for her horrible behavior. Any strange coincidence between Karen showing up so soon after the departure of Hymie never occurs her. It occurs to us, but if Karen just wanted to get Hymie out of her mom's house with a ruse, after it worked would she need to show up looking like something the cat dragged in? We don't know but she did ask about the baby — she didn't even know his name was Hymie — and claimed she didn't deserve to have him. We don't believe Karen is really sorry for the way she treated Sheila, do you?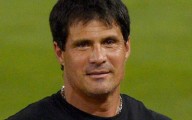 Baseball outfielder and former Celebrity Apprentice Jose Canseco ...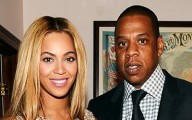 Beyonce and Jay-Z are reportedly expecting their second ...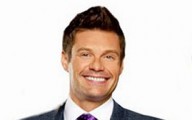 In the wake of Randy Jackson's announcement that ...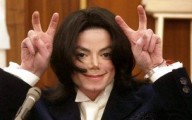 Wade Robson now claims Michael Jackson abused him, ...
Recent Comments
Popular Stories