November 19th Birthdays
Published on November 1, 2011 by dream team · No Comments
American country singer, Billy Currington, was born on this day
in 1973, in Savannah, Georgia
Also born on November 19th:
1933
Larry King, American TV personality
1941
Dan Haggerty, American actor
1943
Fred Lipsius, American musician (Blood, Sweat & Tears)
1945
Bobby Tolan, American baseball player
1947
Bob Boone, American baseball player and manager
1949
Nigel Bennett, English actor
1953
Robert Beltran, American actor
1954
Kathleen Quinlan, American actress
1955
Sam Hamm, American screenwriter
1956
Glynnis O'Connor, American actress
1957
Tom Virtue, American actor
1958
Terrence "T.C." Carson, American actor
1959
Allison Janney, American actress
1960
Matt Sorum, American musician (The Cult, Guns 'N Roses, Velvet Revolver)
1961
Jim L. Mora, American football coach
Meg Ryan, American actress
1962
Jodie Foster, American actress
1963
Terry Farrell, American actress
1966
Jason Scott Lee, American actor
1969
Erika Alexander, American actress
1972
Sandrine Holt, Canadian actress
1973
Django Haskins, American singer, guitarist, and songwriter
1976
Robin Dunne, Canadian actor
1979
Ryan Howard, American baseball player
Larry Johnson, American football player
John-Ford Griffin, American baseball player
Keith Buckley, American singer (Every Time I Die)
1980
Courtney Anderson, American football player
Otis Grigsby, American football player
Adele Silva, English actress
1985
Alex Mack, American football player
1986
Veronica Scott, American fashion designer
Jeannie Ortega, American actress, dancer, and songwriter.
1989
Tyga, American rapper
1997
McCaughey septuplets, world's first surviving set of septuplets
Tags: november
Who All Else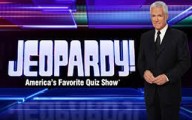 This week, Jeopardy! is re-running the 2015 Teacher Tournaments and although we have been putting links to the ...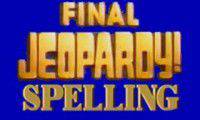 Here are two collections of words that have been misspelled in Final Jeopardy! The first set shows spelling ...
Recent Comments
Tags