Jeopardy Hometown Howdies
Here is the daily lineup from Jeopardy.com, for the semi-final matches of the 2017 College Championship.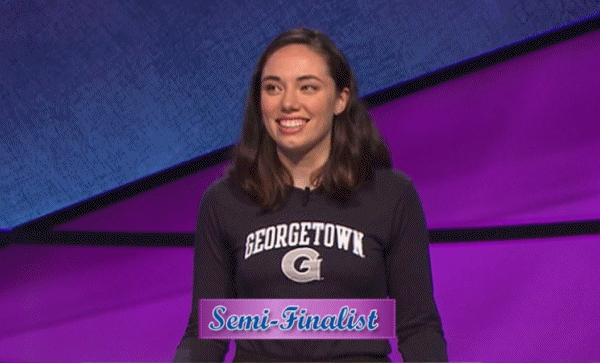 MONDAY
Julia Marsan, Brookfield, WI (Sr, Georgetown Univ)
Lilly Chin, Decatur, Ga. (Sr, M.I.T.)
Alex Bourzutschky, Potomac, MD (Jr, CalTech)
TUESDAY
Viraj Mehta, Austin, TX (Jr, Stanford Univ)
Mohan Malhotra, Wilmington, DE (Freshman, NYU)
Clarissa Santori, Ellicott, MD (Sr, Northeastern Univ)
WEDNESDAY
Gary Tse, Ellicott City, MD (Freshman, U.S. Naval Academy)
Netanel Paley, Teaneck,, NJ (Sr, Yeshiva Univ)
Mari Hanley, Lighthouse Point, FL (Jr, Stetson Univ)
The winners of these matches will compete for the grand prize of $100,000 on Thursday and Friday. Second place gets $50,000 and third place $25,000. The students who don't make it to the finals get $10,000 each.
Learn more about the tournament and the players on Jeopardy!'s College Championship minisite
Click here for last week's FJs and daily wins.
Jeopardy Articles:
Be a Contestant: Sign up to get notified of test dates on Jeopardy.com
The Verge: Jeopardy Viewers Complaints to FCC
11 Defining Moment in Jeopardy! History
Breaking Down Four Rare Jeopardy Scenarios
Links to help you increase your knowledge: