Final Jeopardy: Inventors
Published on May 18, 2012 by name team · No Comments
The Final Jeopardy question (5/18/2012), in the category "Inventors" was:
The Natl. Inventors H.O.F. said his work "brought the South prosperity", but he was out of business within 5 years.
We're wrapping up Power Players Week with these three celebrities: Thomas L. Friedman, Pulitzer Prize-winning author, NY Times foreign affairs columnist; Kelly O'Donnell, NBC News political reporter; and Anderson Cooper, CNN news journalist.
Once again, as has happened more often than not this week, the Jeopardy! round Daily Double was left on the board in one of 9 uncovered clues
Anderson finished in the lead with $4,200. Tom was second with $4,200 and Kelly was in the hole for $400.
Anderson found the first Double Jeopardy Daily Double in "TV Guide: Movie Synopses." He had $4,600. Alex mentioned that Anderson always wanted to make a true Daily Double bet but he only bet $1,000. The clue confused Anderson and he couldn't come up with a reply so he was WRONG.
1953: Life on a Honolulu army post just before the Pearl Harbor attack.
show

.
Anderson found the last Daily Double in "I Am Grover Cleveland." He had $14,800, a $6,400 lead over Tom, who was second. He bet $800, and he was RIGHT.
I sent troops in to quell the 1894 Pullman Railroad Strike because it was interrupting the delivery of this.
show
Anderson finished in the lead with $15,600. Tom was next with $8,400 and Kelly was in third place with $2,000.
NONE of the contestants got Final Jeopardy! right.
"While Eli Whitney is best remembered as the inventor of the cotton gin, it is often forgotten that he was also the father of the mass production method. In 1798 he figured out how to manufacture muskets by machine so that the parts were interchangeable. It was as a manufacturer of muskets that Whitney finally became rich. If his genius led King Cotton to triumph in the South, it also created the technology with which the North won the Civil War." (National Archives: Teaching With Documents: Eli Whitney's Patent for the Cotton Gin)
Kelly wrote down Carver and lost $500. She finished with $1,500.
Thomas didn't have a clue so he lost $7,400, and he finished with $1,000.
Anderson wrote down some scribble scrabble that looked sort of like "invented cott." He said he was going for "invented the cotton gin" to show, we suppose, that he knew it but couldn't think of the inventor's name in 30 seconds. He lost $1,201 but still won the game with a total of $14,399. That means $50,000 for his charity, The Trevor Project.
Thomas got $10,000 for Conservation International and Kelly's charity, Lost Dog & Cat Rescue Foundation, gets the same amount.
It was a great week on Jeopardy! for the charities. Not so much for the Power Players, as Alex sort of pointed out in the beginning. The high school students in the Teen Tournament put in a far more respectable showing. LOL!
Who All Else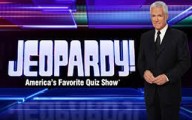 Here are the Hometown Howdies for the current week on Jeopardy! -- 4/21 through 4/25. Handy Jeopardy-Related Links: LocateTV - ...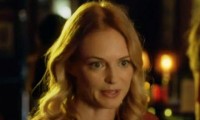 In the second episode of Season 7 of Californication, Julia is Levon's mother, the actress that Hank Moody ...
Popular Stories