Charlie Cox on Jimmy Fallon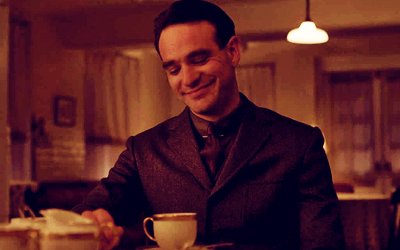 Charlie Cox made his U.S. talk show debut on Jimmy Fallon tonight (well, actually it was after midnight when he came on here.)
Cox was sporting a lot of facial hair that he doesn't sport in his role as that Irish fellow, Owen Slater, on Boardwalk Empire. Cox says no one recognizes him from Boardwalk Empire on the street — they know him from his stint on Downtown Abbey.
Much to the consternation  of Boardwalk Empire fans, no doubt, a discussion of sports in general and cricket, in particular, ensued.
Cox, who is really English and not Irish at all, then explained how he came by the Irish accent he affects in the series. He downloaded the podcasts of a Belfast priest. As a result, he was able to do an excellent Irish accent and he also learned quite a bit about the Bible. Way to multitask.
They then played the clip from The Milkmaid's Lot where Owen Slater tells Margaret Thompson (Kelly Macdonald) that Gyp Rosetti (Bobby Cannavale) was behind the bombing of Babette's Supper Club that killed her husband's mistress and almost killed him too.
And that was it!
So if you were hoping that Cox would divulge some tidbit about the fate of his double-crossing character, who is sleeping with Margaret Thompson, you were SOL.
But the current predictions are that Owen is going to meet his maker in Episode 10 — "A Man, A Plan…" —  and that is next week.
And it's also anticipated that Nucky Thompson (Steve Buscemi) will at last find out about the Owen and Margaret love affair.